Hublot Big Bang Unico GMT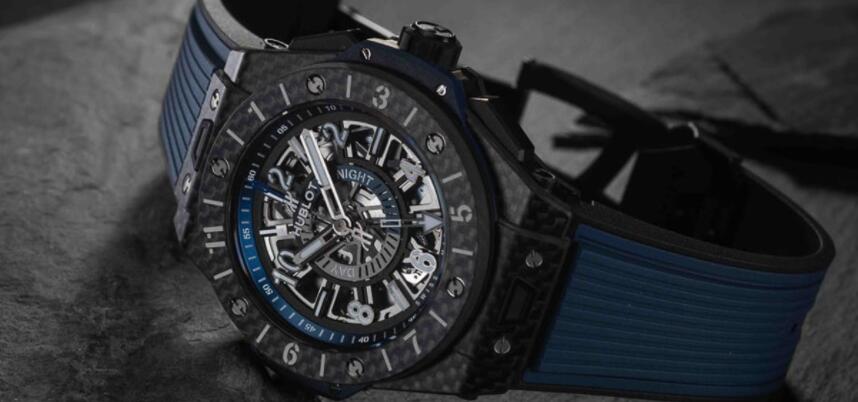 Launched early last year in Geneva, the Hublot Big Bang Unico GMT — which technically is a dual time zone watch and not a true GMT, as there's no hand running on a 24-hour scale — is the first arrival in the Big Bang family with a multiple time zone indication, powered by a then new in-house caliber with a few tricks up its sleeve. Offered in King Gold, carbon, and titanium casing options, we were instantly drawn to the relatively understated appearance of the titanium model. Practical and understated aren't often words that come to mind when the name Hublot is part of the conversation (case in point, the recently launched Unico Red Magic chronograph), giving us further grounds to dive into the new piece to see if it has the chops to convert some of those less keen on the perpetually polarising brand.
Being part of the Big Bang line, the case of the Hublot Big Bang Unico GMT Titanium is business as usual for the most part. A mix of polished and brushed finishing (though Hublot refers to it as "satin" finishing), blue and black composite components for the case barrel and below the bezel, and a chunky rubberised crown are all par for the course. An engraved stencil-style 12-hour scale adorns its bezel, sadly serving no real functional purpose, though visually pleasing. Most notably, its broad rectangular pushers, which operate the local time hand (more on that later), provide clear distinction between this and its chronograph siblings. If anything, the design is slightly reminiscent of earlier Big Bang Chronograph models. Using a screw-down crown and well-sealed push-pieces, the new model is good for a water resistance of 100m, perfect for those travel days where a little pool time could be involved.
Creating a fully or partially openworked dial is nothing new to Hublot, and much like in years past, they've proved their ability to do so in a unique and interesting fashion. Similarly to the Big Bang Meca-10, a very industrially influenced caliber design rests below its indices, which use numerals for the even hours in contrast to the oddly numbered bezel indications. Located front and centre, we are met with a unique rotating day/night display with a stencil-style font. Blue accents for the night portion of the day/night indicator, the rehaut, the composite resin case layer, and its strap are all coordinated, as one would expect. Though not every piece by the brand is to my taste, I've always appreciated their attention to detail. A prime example of this: if you look closely at the home time hand, the portion that tracks over the day/night indicator is white, making its position on the indicator easier to spot at a quick glance.
The HUB 1251 self-winding caliber fitted in this new model packs quite the punch, both in terms of technical prowess and design. First, its quickset indication is superbly practical and easy to use, with the top pusher advancing the home time by an hour, and the lower pusher setting time back. A safety lock-out mechanism is built in to block the ability to push both pushers at once. The 4Hz caliber is good for a 3-day power reserve too, which is more than acceptable these days. Looking at the business end of the watch, Hublot opted for a sort of micro-blasted finish, which suits the industrial style of the caliber's execution quite well.
There's really nothing out of the ordinary to report here, as the Hublot Big Bang Unico GMT is fitted with the same one-click quick changing strap setup as all its Big Bang siblings. That said, Hublot rubber straps are some of the more comfortable offerings on the market, and this model is no exception. The stock strap is blue with black accents, as previously mentioned, though we can't help but wonder what it would look like on a matching shade of slate grey.
As timing worked out, I was on the road during my time with the Big Bang Unico GMT. Business meetings, pool time, and social calls were all on the agenda, and the GMT fitted in nicely in every context. That said, it was Miami, where the boldness of Hublot is welcomed with open arms, but even in more conservative settings this piece is just under-the-radar enough to get by. As noted above, the piece wears very comfortably, though at 45mm it's fairly substantial on the wrist. I was also surprised by its overall heft considering its titanium casing. We're not talking Platinum Lange on bracelet heft by any means, but I was expecting the titanium model to be a bit more of a featherweight. If lightness is of significant importance for you, the carbon-cased version of this watch might be a better choice.
All told, this is yet another solid release from Hublot that strives to win over the enthusiast sect. We all know the brand takes a fair bit of heat for its "limited edition everything" watches, and the fact that it seems as though they release a new watch every day of the year, but recently they've been consistently proving that there's much more to the brand than flash and marketing jargon. Much as I still love the Meca-10, the Hublot Big Bang Unico GMT Titanium is on the verge of dethroning it as my favourite offering from the brand.