Richard Mille RM 11-05 Automatic Winding Flyback Chronograph GMT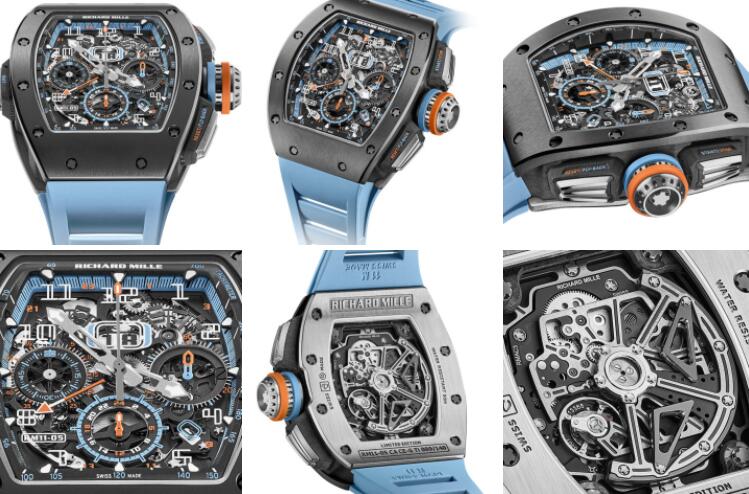 GREY CERMET MAKES AN APPEARANCE IN THE NEW
RM 11-05 AUTOMATIC FLYBACK CHRONOGRAPH GMT
Grey Cermet, Richard Mille's new exclusive material
The lightness of titanium meets the hardness of diamond
Limited edition of 140 pieces
True to the Richard Mille spirit, grey Cermet is the fruit of painstaking research conducted by the brand, which is unrelenting in its commitment to the creation of new materials. This exclusive Richard Mille material in watchmaking combines the lightness of titanium and the hardness of diamond.
The construction of the automatic movement gives pride of place to titanium. Its functions notably include a GMT display that can be simply adjusted thanks to a pushpiece at 9 o'clock, a 24-hour flyback chronograph, and an annual calendar. The added grey Cermet is adapted to the pure aerodynamic lines of the iconic case, which measures 50 x 42.70 mm with a total thickness of 16.15 mm.
The Cermet owes its unique grey colour to the combination of a metallic zirconium matrix with high performance ceramic inserts. Its implementation required a degree of rigour commensurate with that needed to create the materials themselves. Heating and pressing together very different kinds of materials at a high temperature without altering their respective qualities was a challenge. It proved even more difficult to obtain a homogeneous whole, as nickel and cobalt, which are normally used in this family of hard materials, were excluded in order to adhere to REACH standards, which ensure safety in the production and use of chemicals in the European industry.
It took many years of development for Richard Mille and the IMI Group, specialising in microtechnology, to remove these undesirable binders and only retain suitable materials. The innovative procedure used for this solution pairs classic hot stamping with a series of powerful electrical current pulses to increase the sintering kinetics, a technique known as 'flash sintering'.Its density of 4.1 g/cm3 – less than that of titanium – and its hardness of 2,360 Vickers – almost the same as diamond's 2,400 Vickers – make Cermet a judicious choice for use in bezels that are very exposed to scratches, while maintaining overall lightness. Cermet's physical properties are widely recognised, hence its frequent use in ballistic protection, external aerospace fuselage components, and in the brakes of competition vehicles.
The combination of a Carbon TPT caseband, a grade 5 titanium caseback and a grey Cermet bezel helps to significantly reduce the weight of the RM 11-05.
Limited to 140 pieces, the RM 11-05 Automatic Flyback Chronograph GMT will be available from July 2020.
Richard Mille RM 11-05 Automatic Flyback Chronograph GMT
As hard as a diamond, Cermet reappears on the scene in the exterior of the new Richard Mille RM 11-05 Automatic Flyback Chronograph GMT, as Richard Mille continues its ventures into the fascinating world of unobtanium-grade materials. Essentially the 911-equivalent for the brand — meaning it costs as much as a Porsche 911 (the Turbo S, mind you), and it continuously develops while maintaining its original, recognizable shape. The RM 11-05 includes a GMT in the feature-packed caliber that has, for long, powered it. But first, let's briefly talk Cermet.
The quest to create even lighter and yet more durable materials has been a defining feature of Richard Mille's character. Various kinds of carbon, metals, ceramics, and even quartz have found their ways into Richard Mille exteriors and movements, even allowing the brand to produce record-breakingly light watches that their well-heeled customers could beat up in race cars or when falling over themselves on tennis courts. As tired as automotive analogies may be, Richard Mille's operation is well and truly comparable to that of supercar manufactures for its endless pursuit of increased performance in engineering design and materials. Its customers are more than willing to cover the expenses, after all, so why not?
Cermet, as an overarching category of materials, isn't exactly new to luxury watches. Cermet is a composite material short for… I'll give you a moment to have an educated guess… Yep, ceramics and metal. When I hear Cermet, I immediately think of those rarified Jaeger-LeCoultre Deep Sea Chronographs that were famous for using a type of Cermet, and also for a confusing naming overlap with a name-fellow Rolex watch.
2,360 Vickers is the claimed hardness of "Grey Cermet." That's what materials scientists tend to call "very hard." To put that into perspective, the Grey Cermet in the RM 11-05 case is about six times harder than hardened stainless steel that generally clocks in at about 390 Vickers, and about 12 times harder than 18k gold at around 210 Vickers. Developed together with the IMI Group (an England-based engineering company with a name like that of a Bond villain's employer), Cermet owes its grey color to the combination of a metallic zirconium matrix with high-performance ceramic inserts.
Heating and pressing together these different types of materials is difficult enough, with an added layer of having to make it look pretty enough to help justify a six-figure price tag. Specifically, the challenge lies in removing undesirable binders and attaining a homogenous whole. Cermet's physical properties make it the material of choice in ballistic protection (might come handy in case you find yourself in a bit of an armed pickle with your peers), external aerospace fuselage components (in case you take your PJ with your arm hanging out the window), and in the brakes of competition vehicles, of course.
Held together by 20 spline screws machined from grade 5 titanium, the case dimensions of the Richard Mille RM 11-05 Automatic Flyback Chronograph GMT watch in Cermet are 50.00mm lug-to-lug, 42.70mm in diameter and 16.15mm in total thickness. Match that with the trademark arched caseback, flowing integration of straps, and the much rivaled but never matched feel of Richard Mille rubber straps, and you'll have a super comfortable piece to wear. I feel the time has come that the brand should consider providing the exact weight measurements of its watches so that prospective buyers can choose one model over the other based on this figure — as they do with their Superleggera automobiles.
The Richard Mille calibre RMAC3 still packs a punch: It's a chronograph topped off with a flyback function, a GMT indication, and an annual calendar — probably one of the best-kept secrets among complications on any luxury watch. Power reserve is 50 hours (+/- 10%), operating frequency is 28,800 vph, moment of inertia is 4.8 mg•cm2 and the angle of lift is 53°. The barrel arbor is in AP20 steel — just throwing this out there because I know that's a hotly debated aspect in watchmaking these days.
The engineering madness continues with beautifully finished carbon fiber flanges filled with "an approved luminescent material" — as opposed to a luminescent material smuggled into the manufacture on Christmas Eve, I guess. The dial is in 0.40mm-thick sapphire crystal with anti-glare treatment on both sides — probably the weakest link in Richard Mille watches as this coating tends to create a distinctive blue glare on the dial itself (and not on the outside crystal). I wish this was a color-neutral coating. Such nuances as how the caseback sapphire crystal is 0.84 millimeters thicker around its edges than it is in its center, or how the baseplate and bridges of the movement are in wet sandblasted titanium (as opposed to good old brass), are a given when it comes Richard Mille watches — and their pricing.