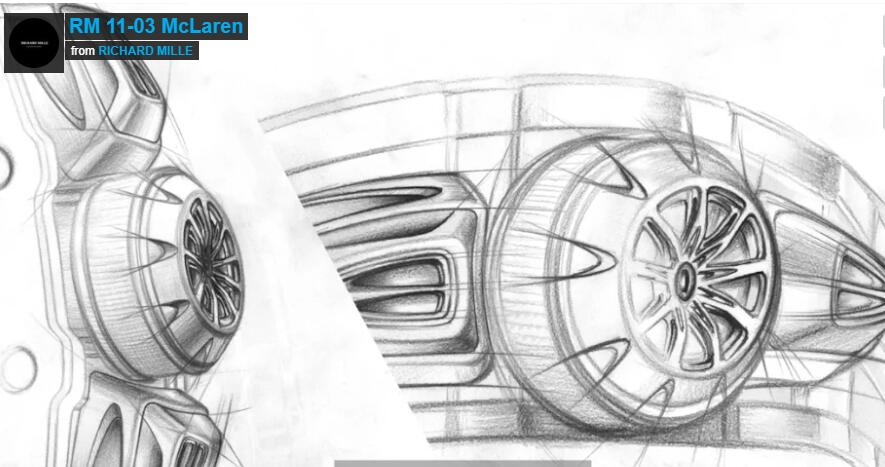 Despite the crudeness of the delivery, sometimes a message still resonates with irrefutable truth. And this is the case in an amusing video made by a YouTube pundit with an accent originating from one of the provincial outer boroughs of Manhattan. What he says is this: "When you have a Richard Mille on, everyone around you knows that you've got a hundred grand on your wrist and that you can afford to spend a hundred grand on just like a chronograph. Most people who spend that much would want a perpetual calendar or even a tourbillon." His implication being you have the confidence to wear what you want with no concern of relative value – and of course the means to buy it.
But what he doesn't say is that such is the size of the waiting list propelled by the overwhelming tidal wave of lust for the watch in question – a Richard Mille RM 11-03 – that you also have to be very lucky just to be able to own one. For example, a blue Quartz TPT RM 11-03 Jean Todt chronograph is trading for well over US$100,000 above the retail price. What he doesn't say, and what every watch lover and most watch brand CEOs acknowledge is that amongst a group of individuals whose lives comprise of blasting around in 1,000 horsepower supercars, being ferried by helicopter to party all night on yachts moored of the coast of the world's most seductive locales and then recuperating while horizontal and often in connubial bliss on their private jets, the Richard Mille watch is the membership badge to an ultra-exclusive alternate reality most people will never have access to.
What he also doesn't say is among any group of men comparing the relative badass-ness of their timepieces, if you have a Richard Mille on, you just win. What he doesn't say is the only watch that trumps a Richard Mille is another more technical or complicated Richard Mille. But competition amongst Mille collectors never happens because the brand is about community. What he doesn't say is that, although every RM customer on earth is clearly successful, he is also a cool guy because he takes his cues from Mille the man, who is the ultimate cool guy.
And most importantly what he doesn't say is that Mille's watches collectively represent horology's greatest level of technical and material innovation resulting in, amongst many things, the world's lightest and most shock resistant watches constantly put through the paces by the world's most elite athletes.
Because if he said all these things you would realize that there is profound substance backing up the so called "Richard Mille effect" and that the RM 011 is far more than "a hundred grand on your wrist" (in reality it is quite a bit more than this). It is the symbol of watchmaking's greatest cultural and technical revolution. Both Mille and his brand are a category unto themselves, where the price of entry is US$150,000 and can go up to US$2-3 million for a single watch. And yet people fight for the right to own them. In that, he is unique.
The RM 011
When it was introduced in 2007 the RM 011 was positioned between the RM 005 and its larger-sized successor the RM 010, the time and date automatic watches and the RM 004 a split-second chronograph with a movement created in collaboration with the fabled Renaud & Papi. It represented a fantastically designed Richard Mille with all the wonderful technical, F1- and aerospace-inspired codes, beautiful finish with a useful and reliable complication, an annual calendar, large date, automatic chronograph. It was about one third the price of a Richard Mille tourbillon.
The watch used Mille's largest case – approximately on a par with that of his Split Second Chronograph Tourbillon the RM 008 – and had an incredible presence on the wrist. It used the same Vaucher automatic calibre found in the RM 005/10 with splined titanium base plate and featured a very cool variable inertia automatic rotor which could be adjusted to different levels of activity to reflect the lifestyle of the owner. Amusingly it was Papi's father who came up with the first concept for this rotor. Mille said: "I always felt I wanted to establish my brand first at the ultra-high end. Once we saw that we were doing very well in this category, even with tourbillons that were twice as expensive as the next most expensive tourbillon, then we could think about launching the medium complications and simpler watches. However, these were also made with my philosophy of no compromise."
When launched the RM 011 was a huge hit. It offered a lot of collectors new to Richard Mille a taste of his take on complicated watches without necessarily putting down the equivalent of a decent size home in most parts of the United States. But for many Mille lovers it was the point of entry into the world's most exclusive watch lovers' community. Was it still the world's most expensive sports chronograph? Yes, sure. But it is important to understand that the cost related to Mille watches also comes from his desire to integrate groundbreaking innovation at each step.
As Mille says: "I have always said if I was my own financial controller I would be obligated to fire myself, because each time I reach a fork in the road I could take the path where it would make things easier, cheaper, but less according to my principals, I go the opposite path. For example, when we working on the automatic movement that powered the RM 005/010 and the RM 011 with the movement supplier Vaucher they said: 'You want to use a PVD-treated titanium base plate. Are you crazy? Do you know how high the rejection rate will be? Any time a watchmaker touches the wrong part with a tool we will have to throw the plate away.' I replied: 'I don't care. I want the rigidity and shock resistance of titanium even for my automatic movements. Please just do it.'"
Laid Bare
From a visual perspective Mille and his team took great pains to skeletonise the chronograph module seen from the front of the watch, they laid bare its inner workings in a way that was hypnotically alluring. Further the watch featured a unique display with date at 12 o clock, month at 4:30 and a 60-minute counter at 9 o'clock as well as an integrated hour/minute counter at 6 o'clock. Over the years Mille also extrapolated it into different versions, many bestowed with highly arousing sobriquets like Red Demon or Yellow Flash. Mille also used it as the test platform for his experiments in carbon-fibre cases both in forged carbon and later in the more rigid Northply TPT. There is an image taken by The Rake magazine of him wearing the very first carbon-cased Richard Mille an RM 011, shot at his home in Brittany, while astride his vintage Harley Davidson. What is extraordinary in that a full decade later the original RM 011 remains one the most stunning modern chronographs ever created.
What is particularly interesting about Richard Mille's strategy with the RM 011 was upon the onset of the financial crisis, at a time when many brands were panicking, Mille took the decision to increase his prices by up to 40 per cent in some references. So, at the same time he reduced production, but in reality he just moderated his growth. He essentially bet on himself, that his watches were desirable enough that real customers would be willing to pay the increase because there was simply no other option if you wanted to become part of the Mille community. The results were amazing.
The first thing that happened was he immediately separated the wheat from the chaff, only real collectors with true passion and real liquidity could approach the brand. The second thing was for that every Mille watch created there were already ten or more customers that wanted to buy that piece. Which meant that the waiting list for the RM 011, started to massively outpace the rate of production of the watches.
And before anyone thinks that this is simply Mille's strategy for engineered rarity, consider this: it is only a brand able to arouse genuine and irrational desire that can create true rarity. Patek Philippe could. Hermès could. And now it was clear that Richard Mille also could. But for Mille this was the byproduct and not the objective, as he explained: "I simply wanted to create greater stability with my brand. I was not interested in increasing production for short-term gain. I wanted to build slowly and rationally to sustain long-term growth. I did not know part of the effect would be that people would grow crazy to own my watches."
The Replica Richard Mille RM 11-03
It was 2016. I remember sitting in a room full of the world's most sophisticated and accomplished vintage car collectors – including my friend who had piloted her 250 GTO to Chantilly, the world's preeminent concourse – when everyone suddenly left the table. Because everyone, and I mean individuals that had spent the better part of the year readying their automotive finery for competition, wanted to touch and try on Richard Mille's new RM 11-03, the revised version of one of his signature models.
How was the watch different? To begin with the case had become more angular, aggressive and technical now, taking its codes from the Rafael Nadal RM-27 worn in competition and to innumerable grand slam victories by the world number one. It was still a tripartite case held together with 20 splined titanium screws made exclusively for Mille. But the first thing I noticed is that the technical skeletonisation of the movement within had been brought to an all-new level. The same treatment had been applied to the highly reworked automatic movement with a crazy titanium barrel bridge that retained the twin barrels.
Likewise, the variable inertia automatic rotor had all excess material excised until all that remained was the bare skeletal structure of the oscillating mass and the two white-gold adjustable wings. New pushers were formed in the shape of accelerator pedals and were surrounded by carbon fibre protective shrouds made from NTPT. The crown was bigger yet more ergonomic and fitted with rubber elements imprinted with tyre-tread patterns for better tactility. The watch was simply staggering in its traffic stopping presence. But what I didn't know at the time was it was also about to become one of the most coveted timepieces in human history.
The RM 11-03 McLaren
One of the greatest things about Richard Mille is his consistency. And one of his most constant objectives is his focus on material innovation, which has let to his pioneering work in two materials. The first is Northply TPT (thin ply technology) carbon fibre, which uses irregular weave carbon fibre that is formed layer by layer into a block. The result is something that looks like marble and as such each piece is unique because of the irregularity of the layers. This is then machined in-house at his manufacture into the modular parts of his case.
It is important to understand that this results in cases that have a far greater surface hardness and strength than the more ubiquitously forged carbon cases which are essentially moulded into shape. I know this because I took a swing at a Mille carbon bezel with a hammer and despite bouncing completely off the table with the force of the blow it remained totally unscathed. Mille also pioneered the use of Quartz TPT which uses silica fibers in the same way to result in light, extremely robust case components that have the additional aesthetic advantage of being colored according to his desires.
The McLaren 11-03 celebrating Mille's partnership with the legendary automotive brand was a particularly interesting timepiece in that the case used carbon and quartz combined together to create a unique matte black and orange patterned case. Even better, the watch was initially offered only to McLaren owners – talk about a rarified circle. In addition to its totally unique case the watch features titanium chronograph pushers shaped like McLaren 720S headlights and a crown shaped like a wheel rim. But beyond all the collaborative efforts born out of McLaren designer Rob Melville and Richard Mille engineer Namura's working together, the watch yielded something far more. It is an unmistakable symbol recognisable from across the room thanks to its unique form and bold striped livery of an ever-tightening circle of exclusivity amongst automotive enthusiasts. And as with every 11-03, it is almost impossible to get.
RM 11-03 Jean Todt
Rendered in stunning opalescent, shimmering blue Quartz TPT, the Richard Mille 11-03 Jean Todt 50th anniversary watch is one of Mille's most staggeringly beautiful watches. It is also one of his hardest watches to find. Today if you want to find one of these a home on your wrist, you need to throw down an additional US$100,000 on top of the watch's already $160,000 retail price. And you'd still be getting something of a bargain because I know of watches that have transacted in the low US$300,000 range. I bring this up not as the aforementioned YouTube personality to brag about the type of money being spent on Mille watches, but to demonstrate that the RM 11-03 has now become one of the single most hotly contested timepieces in the world.
Beyond the prices these watches are now commanding, they are simply magnificent to behold. The irregular layering of the blue Quartz TPT is akin to a cerulean marbled surface and perfectly complements the extraordinary technical firepower within. I sometimes find myself envious of Jean Todt and Felipe Massa, as thanks to their long-standing relationships with Mille, they have some of the greatest watches ever created in the history of modern horology, emblazoned with their names on them. Lucky bastards.
RM 11-03 Le Mans Classic
OK. Forgive me if I've rambled somewhat. I think it's clear by now that if you were to open one of my veins I would bleed Richard Mille Northply carbon. Mille has been extremely prescient and hyper-precise in terms of the audience he has targeted. And because he is a vintage car collector and racer – I think he owns something like 100 cars now – focused in particular on pre-electronic era F1 cars, he understands the mentality of the men and women who race at the Le Mans Classic.
It's nice to see him at this biennial event, because he's clearly in his element. He knows the vast majority of his fellow racers and their cars by heart. Now think about this. If you are someone that wants to race at the Classic, you need three things: you need skill because you need to get a racing license; you need dedication because you need to acquire a vintage race car and a crew to look after it; and you need an ass-load of money, because how the hell can you achieve the previous two things otherwise. Walking around Le Mans, what's nice to see is that the Richard Mille watch has become the club membership badge of the event.
And while Mille has created watches to celebrate his love for this event, his latest model rendered in white ceramic with British Racing Green elements is my favourite. I'm not going to go into greater detail than this because by the time you read this they will long have sold out. But my point is that Richard Mille is not a man or a brand, but a cultural revolution in watchmaking that has defined an all-new category that never existed before. The RM 11-03 is his banner, his flag at the front of his cavalry leading the charge. And because it sums up all his ground-breaking, innovation, his passion, his courage and his coolness, it is also one of my favourite watches ever made. In the same way, he is one of my favourite human beings to walk the earth.