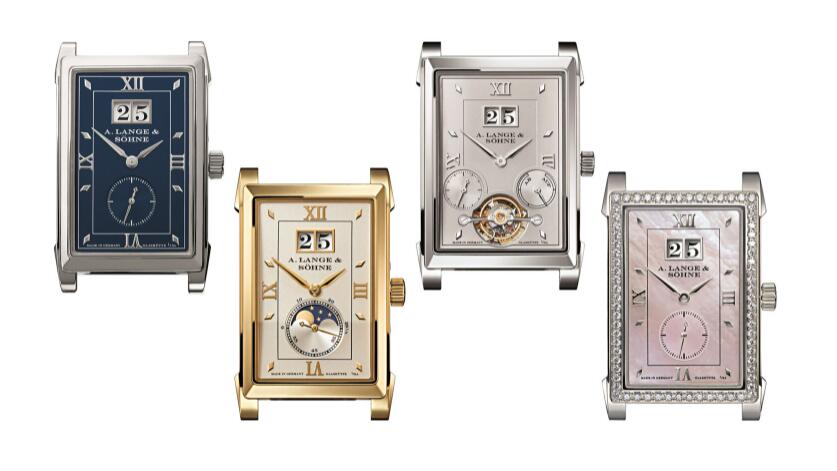 "Fresh, a little impudent and very imaginative – that also applies to the Cabaret by Lange. The great art of watchmaking, performing on the smallest stage in the world. And giving the most beautiful performance that time is capable of."
This is how A. Lange & Söhne introduced Cabaret back in 1997 in Basel. A bit frivolous introduction indeed. Albeit perhaps necessary as the Cabaret is A. Lange & Söhne's first truly rectangular (Arkade had more rounded angles) watch. When one takes a deep look, and we will, it is clear why such a name is the most appropriate. As a Cabaret, the collection offers a scene in precious metals crafted with an eye for detail to showcase the endless flow of time.
The  A. Lange & Söhne Cabaret article follows a chronological discourse with a taste of opinions here and there. It starts with an in-depth look at the Cabaret collection design from the case, dial, and movement perspectives, respectively. Further expands into Cabaret Moon phase; explores its market and differences. Third part takes an in-depth look at Cabaret Tourbillon and explains the particular reference's importance.
However, before jumping on the Cabaret, let's take a look at the untold history of rectangular watches at A. Lange & Söhne.
Markets tend to punish the latecomer if it does not offer a meaningful differentiation from the established ones. Although modern A. Lange & Söhne managed to pull this off, unfortunately the 1920s version of the brand could not. Following WWI, the demand for pocket watches fell sharply and A. Lange & Söhne neither had the know-how nor the material to produce a wristwatch collection – going for bankruptcy.
To avoid a possible demise, A. Lange & Söhne opened up a branch in Switzerland under the name A. Lange & Söhne Genf in 1927 with outsourced movements from the manufacturé Altus SA. Unfortunately, sometimes the brand would put A. Lange & Söhne signature on the movement plates, a practice that the brand sued many others for decades… From the 1920s to the company's long overdue fall in the 1950s, A. Lange & Söhne bought ebauches, cases from Switzerland and Glashütte, finished in its own ateliers and sold under different names Lange Uhr, Lange Glashütte I/SA, A. Lange & Söhne Geneva.
All in all, as you can see, shaped watches have a long-standing tradition with  A. Lange & Söhne Cabaret  and I am sure that this heritage was one of the reasons for the introduction of Arkade in 1994 and then Cabaret in 1997.
Introduction of Cabaret, for me, is one of the most interesting choices ever made by A. Lange & Söhne. Even more so when one takes a look at the model that launched the collection in 1997 Basel: Reference 107.031 – a two tone Cabaret in pink gold. A complete departure from A. Lange & Söhne's established image. But perhaps, that was the intention after all? Apart from Lange 1's eccentricity, A. Lange & Söhne founded its design language to be pretty oriental with the defining hallmark between the past and the future being the big date. Indeed, when one takes a look at the 33.9 mm Saxonia or even the Tourbillon Pour le Mérite with exceptional mechanics and utterly traditional design, the observation gains rationale. All watches were featuring monochrome dial colors, and rather routine case designs.
 A. Lange & Söhne Cabaret  signalled innovation in design with Lange 1 and in mechanics with Tourbillon Pour le Mérite, but what about cases? In the end, as a late comer to the market, meaningful differentiation was the strongest impulse of the brand's initiatives. Günter Blümlein, as a long-standing manager of Jaeger-LeCoultre knew Reverso and possibly wanted to offer something different, something German in the area of rectangular watches. The press release above uses the following words to describe Cabaret: Fresh, impudent, and imaginative. These carefully chosen adjectives tell us why A. Lange & Söhne chose to introduce a three-body rectangular case and a completely un-A. Lange & Söhne dial design only after three years of the brand's re-birth. They wanted to signal that the brand is going to experiment and means to keep it fresh. Cabaret was the signal of such a mind-set.