Jaeger-LeCoultre Rendez-Vous Dazzling Star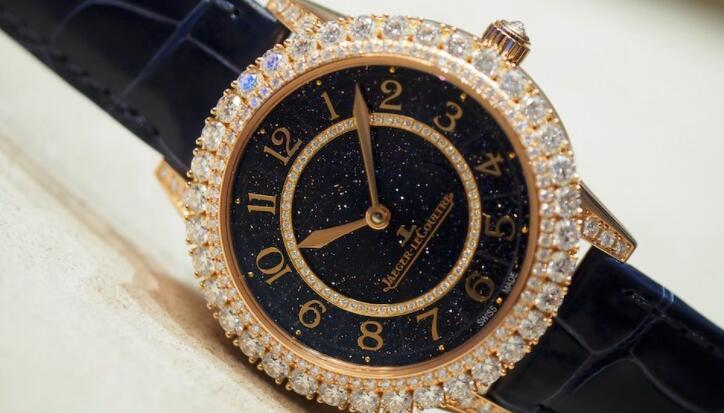 Of all the celestial phenomena, shooting stars are the most romantic and intriguing. Unpredictable, ephemeral, and mysterious, their light streaks across the night sky, appearing and disappearing in the blink of an eye. That they are not in fact stars but meteors —flashes of light created when rocky debris burns brightly on hitting Earth's atmosphere— does nothing to diminish their magic. Visible only at certain times of the year and under the right conditions, these rare phenomena have fascinated mankind since the dawn of time —and now have inspired the watchmakers of Jaeger-LeCoultre Rendez-Vous Dazzling Star.
In 2022, the new Jaeger-LeCoultre Rendez-Vous Dazzling Starrecreates this enchanting celestial phenomenon on the wrist, thanks to an entirely new mechanism conceived and developed within the Manufacture. Activated by the movement of the wrist, the shooting star appears on the dial at random moments —usually four to six times per hour— its unpredictability makes it even more special. To enjoy the enchanting display more often, the star may also be summoned on demand by turning the winding crown several times. Entirely made of blue Aventurine, the dial of the new Rendez-Vous Dazzling Star exquisitely captures the beauty of a star-studded night sky. In the center, framed by a ring of diamonds, three discs are layered over each other. The first layer, an oval of Aventurine, conceals the shooting star when it is inactive. Beneath it is a circular disc of Aventurine with a cut-out of the shooting star; when activated, this disc spins, sending the star on its curving path across the upper dial. As the star passes, the cut-out reveals the deepest layer of the dial – a fixed disc of golden metal with a glowing gradient finish that accentuates the sense of movement. Loyal to the codes of the Rendez-Vous collection, this central display is surrounded by a ring of applied numerals in the signature Floral font and applied hemispherical hour markers. The time is indicated on these scales by golden Floral hands. Surrounding the 36 mm pink gold case, the Dazzling Rendez-Vous bezel forms two concentric rings. There's an airy quality to these glittering circles, thanks to the prong setting of the outer ring of 36 stones. A classical jewelry technique introduced in the Rendez-Vous collection in 2019, it is an exquisite testament to Jaeger-LeCoultre's gem-setting expertise. Fine gold claws hold the diamonds high, allowing light to pass through them from every angle, maximizing the presence of each stone while minimizing the visible metal. To complete the watch case, the upper surfaces of the lugs are set with diamonds and an inverted diamond is set into the crown.
The new Jaeger-LeCoultre Rendez-Vous Dazzling Star is delivered on a blue alligator leather strap and an additional reference is available with a fully-set pink gold bracelet.