TAG Heuer Monaco Calibre 12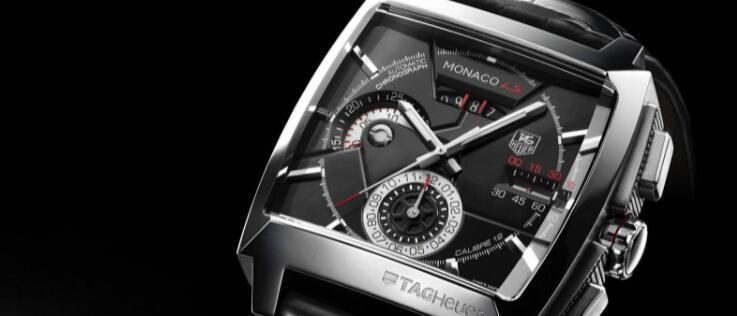 New to the range is this TAG Heuer Monaco Calibre 12, Ref. CAW2114, which is the first black Monaco with red highlights- the "Black McQueen".
The hands on this new Monaco are a clear nod to the design of the original Heuer Monaco hands, which had thin slivers of red extending half-way up the hour and minute hand, meeting the lume filler. The new Monaco is available on the traditional crocodile leather strap, as well as a rubber strap, which seems to fit the look of this watch better. Like all new Calibre 12 TAG Heuer Monaco's, the watch has a 39mm case (vs. the old Calibre 17 TAG Heuer Monaco at 38mm) and features sapphire crystal rather than plexiglass. While these seem like small changes, when you look at the watches side-by-side the contrast become more apparent.
All of the new Monaco range have what TAG Heuer are calling a "Calibre 12" movement- and its described as being based on the "Dubois Depraz 2008"- which is a little confusing, as this seems to be a reference to the chronograph module, rather than the base movement itself.
The Calibre 17 as used in the 2-register Monaco is an ETA 2894-A2, while the new Calibre 12 is actually an ETA 2892 with the Dubois Depraz chrono module. Look a little closer and you'll see that the Calibre 17 is an ETA chronograph movement based on the 2892- so essentially the only difference between the Calibre 12 and the Calibre 17 is that TAG Heuer have replaced an ETA chronograph module with one from Dubois-Depraz. For more information on these movements, read more at this link. Below are three Calibre 17 Monaco models, along with the new Calibre 12 Monaco. From left to right The TAG "McQueen" Monaco (CW2113), The TAG Heuer "Python" Monaco (CW2114), the Calibre 12 Black McQueen (CAW2114) and the Limited Edition TAG Heuer Vintage (CW2118)- thanks to Johan for the photo of his great collection Here is another photo comparing the Calibre 17 (left) with the Calibre 12 (right)- the larger case size and profile of the new crystal are more apparent
While the Calibre 12 Monaco is a subtle change from the Calibre 17, the same can't be said for the new Monaco LS, which also uses a Calibre 12 movement, but takes its more radical looks from the Monaco V4. You can really appreciate the difference in size between the two watches from these photos. The case itself is a similar size, but its the unique raised crystal that wraps into the case that makes the difference.