TAG Heuer Monaco Calibre 11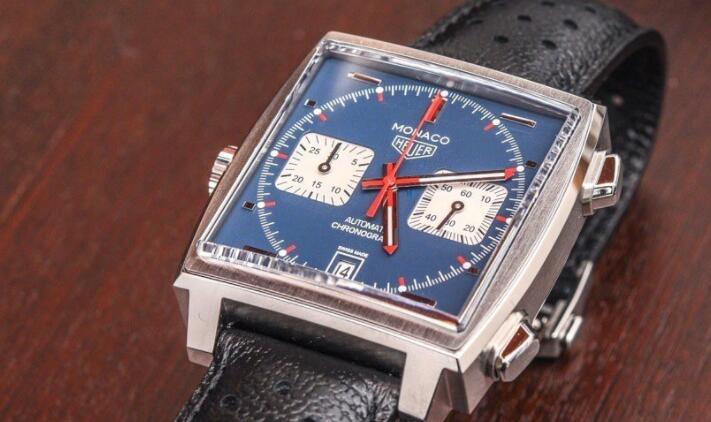 Since its debut in 1969 with the (then non-TAG) Heuer Monaco 1133B, the Monaco has enjoyed countless iterations from re-editions and tribute pieces, all the way to belt-driven, tourbillon-equipped high-tech versions like the V4 (hands-on here). What we are looking at today is the TAG Heuer Monaco Calibre 11 "McQueen" Reference CAW211P, which is interesting for a number of reasons: a) it's a handsome Monaco in blue, b) it promises to be a worthy re-edition of the original, and c) the price is in line with TAG Heuer's recent (and indeed very welcome) more competitive pricing strategy.
Fans of TAG Heuer or the Monaco (or, in fact, both) will surely be familiar with the history of this famed square-shaped chronograph – one among only a handful of square dialed watches that managed to catch on. A little refreshing of our memory certainly won't hurt, though, so let us begin by doing just that.
It was on the 3rd of March, 1969, that Heuer launched what was the first square, water-resistant automatic chronograph – but there was another "big first" to bear in mind: the original Tag Heuer Monaco 1133B was powered by the Chronomatic Calibre 11, which was the first automatic chronograph movement ever offered for sale in the history of watchmaking. Those account for two major premiers and breakthroughs all in just one watch – no wonder, then, that part of the Monaco's everlasting charm is in part fueled by these accomplishments. In what is a fascinating example of how history repeats itself, what played a major role in making the Monaco the globally recognized watch icon as we know it today was Heuer's move to appoint a… you guessed it: brand ambassador. In 1970, Jo Siffert became the first racing driver to be sponsored by a watch brand, and it was with Siffert that the Monaco found its way to the race tracks – and hence into the spotlight. A year later, Steve McQueen (pictured a bit further above) "insisted on wearing" the Monaco during filming for Le Mans in 1971, which propelled the Monaco from the race track to, well, the race track, but pictured on the big screen. It is no news that brand ambassadors and sponsorships were powerful and effective marketing tools in the '70s (and before) – it is still fun to see, though, how that applies to watches and watchmaking.
Over the years, starting in 2003, TAG Heuer created a number of tribute pieces to the original 1133B, but other than a 1,000-piece limited run in 2009 for the 40th anniversary of the Monaco, it always – arguably on purpose – avoided debuting something for the masses that was as close as possible to the real deal, the original… until now.
At Baselworld 2015, TAG Heuer quietly launched what we are looking at today, the TAG Heuer Monaco Calibre 11 Reference CAW211P, and other than few truly very minor differences, it allows Heuer Monaco fans to get a taste of owning the original – at around half the price of what that 1,000-piece limited edition cost before selling out like hot cakes in 2009. Crown on the left, as on the original: tick. Red-filled hour and minute hands, horizontal indices, and red five-minute markers on the dial: all there. "Calibre 11" in the name: tick. Calibre 11 inside? Nope – that, for obvious reasons, couldn't happen. What clearly is the biggest difference between the original and the 2015 model is the movement inside: on what is more than likely an ETA-replacement Sellita automatic base, a Dubois-Depraz chronograph module is responsible for the stopwatch function as well as the dual sub-dial layout of the dial on the 2015 TAG Heuer Monaco Calibre 11.Having been (considered by many) the first automatic chronograph movement ever, TAG Heuer's Calibre 11 movement from 1969 is among the few truly noteworthy and important movements that every watch enthusiast should know at least a little bit about… and that is why it is rather confusing why TAG Heuer decided to name a modern movement Calibre 11 – although it is considerably different to the original in more than a few ways – and also to title a modern timepiece "Calibre 11." Frankly, while tributes and re-editions do great work at keeping traditions and icons well and alive decades after their inception, there is a fine line between paying tribute and causing confusion. The movement is rather exquisitely decorated – as always at this price point and with comparable calibers, the decoration is nice but, of course, you will find no hand-bevelled edges or other haute horlogerie witchcraft. TAG Heuer decided to go with a sapphire crystal case back – a most welcome change from previous editions' (and the original's) solid steel case back. The movement is without a shadow of a doubt nice enough to justify such a deflection from the original – I presume even purists will have to agree.