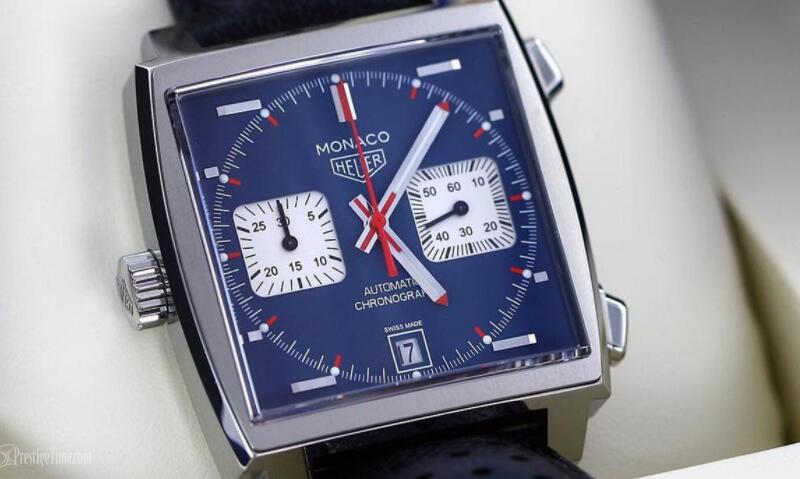 There are several TAG Heuer Monaco watches but the Steve McQueen Edition is one of those watches that collectors can't stop talking about. In fact, the very Heuer Monaco watch that he wore in "Le Mans" was auctioned off at upwards of $87,000 in 2009. A Monaco Chronograph has a manufacturer's list price of around $5,400 (Reference# caw2111.fc6183).
This newer version of TAG's Monaco watch is powered by the new and improved TAG Heuer Calibre 12 which is an automatic (self-winding) movement containing 59 jewels and has a rapid date correction feature. It oscillates at a frequency of 4Hz or 28,800 vibrations per hour and offers a power reserve of 40 hours.
The previous model is model# caw211p.fc6356 (shown below). It has a similar blue dial and comes on a soft calfskin leather strap. It's powered by the TAG Heuer Calibre 11 movement. This model looks more like the original version because of the horizontal hour markers and red-tipped hands
Steve McQueen was a legendary person who has a very interesting life story which highlights the mantra of TAG Heuer watches; "Don't Crack Under Pressure". His story is the embodiment of this slogan from his colorful youth to his high-octane film career and his need for high speeds. This special edition is a pure classic inspired by the vintage watch he wore with a stainless steel case with a transparent case back, blue dial, silver sub-dials, and the unmistakably sporty perforated strap. Steve McQueen has an interesting story and TAG Heuer celebrates his legacy with the blue-faced, square-cased TAG Heuer Monaco which he wore during his role in "Le Mans."
Steve McQueen had a rough start in life. He had parents who were unable to care for him and was therefore raised by his grandparents and uncle on a farm in Slater, Missouri. McQueen claims that his need for speed was first experienced after receiving a red tricycle from his Uncle Claude. By the age of eight, he returned to his mother and lived with her and her new husband. As a going-away present, his uncle gave him a gold pocket watch inscribed with "To Steve … who has been a son to me". Perhaps this was the catalyst that gave Steve McQueen an affinity to luxury watches such as the blue-faced TAG Heuer Monaco which he so famously wore later in his life.
He returns to his mother's home only to find out that his new stepfather turned out to be the temperamental and physically abusive type who within a year caused Steve to choose to live in the streets at the tender age of only 9 years old. He soon returned to live at his Uncle's farm and within a few years, at the age of twelve, his mother got divorced and then remarried and asked to have him move back in with her and her new husband.
Unfortunately, she married yet another abuser, and this one preferred to use fists on both Steve and his mother, once even throwing him down a flight of stairs. While Steve was known to be a bit of a rapscallion in his youth, he slowly straightened out and at one point, after spending several years in a juvenile correction facility joined the United States Marine Corps where he wound up heroically saving the lives of five Marines. After that incident, he was assigned to the honor guard where he protected the yacht of President Harry Truman.
After an honorable discharge in 1950, he began studying to be an actor in New York…later to be nicknamed the "King of Cool". He eventually took to motorcycle racing at the Long Island City Raceway and his speedster instincts kicked in turning him into quite an outstanding racer.
McQueen was 25 when he moved to Los Angeles, California where he began taking roles in television productions and soon B movies. His first film role was in a movie appropriately titled "Somebody Up There Likes Me" which also starred recently deceased Hollywood star, Paul Newman. Although Steve McQueen did a few movies after this one, his big break came at the age of 29 when Frank Sinatra fired Sammy Davis Jr. from the movie "Never So Few" after hearing Davis make negative remarks about him on a radio program.
Steve McQueen got the role instead and Sinatra noticed this young man has something special and authentic about how he handled the role where he would be in his element. Sinatra ensured that McQueen would get lots of close-ups and the speedster was in his element is scenes that involved him driving at high speeds while firing a Tommy gun or wielding a switchblade.
Old Blue-Eyes was right about this young blue-eyed bad boy and very soon John Sturges who directed "Never So Few" told Steve that we will "give Steve McQueen the camera" in his first hit movie called The Magnificent Seven. His career took off like a formula one car with Nitrous Oxide in the tank. McQueen was used to high speeds and just went with it. In '68 he was nominated for an Oscar for his role in the film "Bullit" possibly one of his most famous films where he was in a Ford Mustang GT 390 while chasing a black Dodge Charger and tearing through the streets of San Francisco.
Despite his life having a rough beginning, he reached iconic status in Hollywood. The movie turned out to be such an incredible hit that Warner Brothers were begging him to do more. He was also the star of a series about a Formula 1 racer called "Le Mans" in which he famously wore the TAG Heuer Monaco watch with the blue dial and the Heuer insignia on his suit. He was on the fast track for success and became the highest-paid actor in the world by 1974.
Despite a very successful film career, Steve McQueen was a racer at his core. He didn't even care what he was using, car motorcycle or plane; as long as it went fast he was happy. He often did most of his own stunts when he had a driving scene in a movie. He was actually thinking of becoming a professional race car driver and even gave it a shot at the '61 British Touring Car Championship where he came in 3rd. He even raced with a cast on his left foot in the 1970 12 Hours of Sebring race. To his disappointment, his movie career didn't allow much of a schedule for professional racing but the talent was always there and the need for high-speed vehicles was always overwhelming.
He loved exotic sports cars and owned a few such as the Porsche 356 Speedster, Porsche 908 & 917 as well as the Ferrari 512 and 1963 Ferrari 250 Lusso Berlinetta. He also had a Jaguar D-type XKSS, a Ford GT40, and a 1962 Cobra. He tried several times to get the Mustang GT 930 that he drove in "Bullit" but it never seemed to work out due to the damage that the vehicles had.
Aside from a love for race cars, he also loved to fly and had several planes such as a '46 Piper J-3 Cub, a '45 Stearman, a '31 Pitcairn biplane. He kept his aircraft in a hangar not far from where he lived in his later years. McQueen was a huge fan of off-road Motorcycle racing as well and in 1978 was inducted into the Off-road Motorsports Hall of Fame.