TAG Heuer Releases Its Most Wearable Smartwatch Yet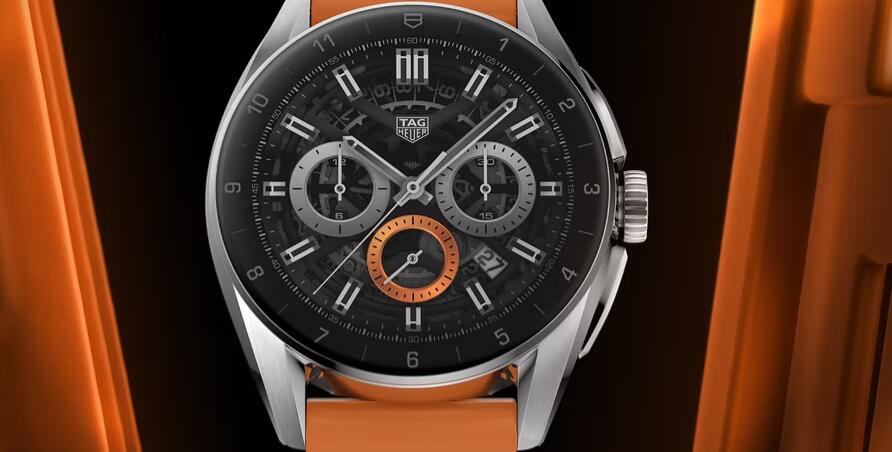 Nearly seven years ago, in November 2015, former TAG Heuer CEO and LVMH Watch Department head honcho Jean-Claude Biver introduced the first generation of the TAG Heuer Connected Watch in New York City.
Smartwatches have become ubiquitous, thanks in large part to the unprecedented success of a single operator that dominates over 50 percent of the global market. But traditional luxury watches haven't been left in the dust as so many predicted in the early days of the smartwatch – the category has grown and grown. These are two disparate sections of the watch world, both expanding, that we rarely see interacting with one another. In fact, TAG Heuer is one of the very few brands where you see both mechanical and smartwatches being actively produced.
Introduced this week at TAG Heuer HQ in La Chaux-de-Fonds, the latest version of the Connected Watch – christened the Calibre E4 – is an important update for TAG Heuer, likely the most significant one we've seen since Biver took the stage six-plus years ago.
The big news is that the Connected Watch, in its fourth generation, will now be produced in two different case sizes for the first time. Since 2015, the Connected has been limited to watches with a 45mm+ diameter, but we're now seeing a smaller option added to the catalog. There will still be a 45mm offering, yes, but today's highlight is the much more wearable alternative in a 42mm stainless steel case.
The cases, which could be described as Carrera-adjacent in design, have each been reworked from previous iterations, most substantially on the 42mm edition. There's no external bezel here, it's been replaced by a curved sapphire crystal that gives the Connected a more fluid and organic feel. The 42mm case, available exclusively in stainless steel, is also the thinnest Connected Watch yet and features a pair of streamlined steel pushers that emulate the appearance of a traditional chronograph.
The 45mm edition, on the other hand, is available in either stainless steel or titanium and retains the black ceramic bezel insert found on past releases. The case profile itself has been redesigned compared to previous, larger Connected editions, for a more ergonomic feel that's defined by its flowing case lines.
The new TAG Heuer Connected introduces a range of health and wellness updates, highlighted by a guided workout functionality for on-the-go exercise that does not require a nearby smartphone. Other updates worth noting include a high-resolution screen that TAG Heuer promises will offer a strong contrast ratio for clear visibility when outside, the addition of an altimeter, and Bluetooth 5.0 wireless connectivity that improves the connection between the watch and a smartphone. The battery has been updated on the 45mm edition to last up to 30 percent longer, while the 42mm model maintains a full day of running autonomy before it needs to be charged. The charging system itself has been renovated, as well – the Connected Watch now comes with a magnetic charger that also works as a display stand, positioning the watch on its side and allowing the screen to remain fully visible while charging.
Idon't think I really should have to say this here, but I will anyway – not every watch is for every person. I don't personally own a smartwatch, and I don't really see a purchase of my own on the horizon. Yet I still recognize that this week's news from TAG Heuer is positive for addressing the issue of size inclusivity.
Smartwatches, even more so than traditional watches, appeal to different folks for different reasons. Some will be more interested in a smartwatch's fitness features, while others want to be able to stay online when away from their smartphones. You never know what a person's reason for buying something is, but it's important to be able to offer a product that wears comfortably. The previous versions of the TAG Heuer Connected were often too large to be worn easily by those with small or medium wrist sizes. I expect the 42mm size option to be a game-changer for the Connected for basically that reason – it will now be able to fit more people.
Quite a few luxury companies introduced smartwatches in the mid-2010s before slowly exiting the market. But TAG Heuer has stuck with it, introducing iterative improvements on a fairly frequent basis. If you look back at 2015's Connected Watch (see our Hands-On with the first version, here) and compare it to the Calibre E4 versions introduced this week, TAG Heuer's commitment to the category becomes a bit clearer. What was previously a somewhat awkward, bulky design has evolved into a smartwatch that genuinely looks and feels like a luxury product released in the 2020s.
TAG Heuer CEO Frédéric Arnault understands the potential of the Connected Watch better than most. He started his career at the brand in 2017 as Head of Connected Technologies before transitioning to Strategy and Digital Director, a role he held for two years prior to assuming the CEO position in the summer of 2020.
"The Connected Watch is growing even more than the traditional watch segments for TAG Heuer," Arnault told me recently, citing 2021 sales figures. "We track, on a daily basis, how many people are wearing the TAG Heuer Connected; this number is solidly growing. We still see plenty of people wearing the first generation of the Connected Watch today, who bought the watch in 2015."
If you look at how TAG Heuer organizes its current catalog, you'll find six total collections. The Autavia, Carrera, and Monaco are dedicated to highlighting the company's heritage, while the Aquaracer, the Connected, and the Formula 1 are each focused on evolving the look and feel of what a TAG Heuer watch can be today. Strategically, it's clear that the Connected Watch has been a long-term play from its start.
As a watch lover, I've always found the primary argument for the Tag Heuer Connected Watch to be this: If you want a smartwatch that feels like a mechanical watch on the wrist, it's basically the only game in town. The 45mm and 46mm designs were just too large for too many people, a fact that's now been addressed.
But is this a smartwatch masquerading as a mechanical watch? Arnault doesn't see it that way. "It's a dual product, it's both physical and digital," he said. "There's a lot of creativity that can be brought to a screen in the digital space. I think we've just touched the surface on what we can do from a creative standpoint on the screen; that's a trend you'll see coming from TAG Heuer in the years to come."