Hublot Classic Fusion Chronograph King Gold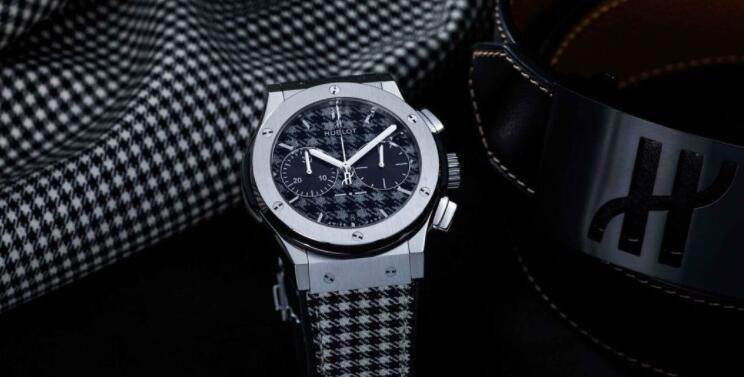 Guilty pleasures — everybody has them, but should they? As Lex explained in the first article of this series, a guilty pleasure could be defined as something that you enjoy but is frowned upon by your peers. It's a possible reason for embarrassment, especially amongst friends. But why should you be embarrassed? As Lex said, "You should celebrate that you have the ability to feel such wonderful things because of your so-called guilty pleasure." That's why I want to present my guilty pleasure to you — I love the Hublot Classic Fusion Chronograph Italia Independent "Pied De Poule"!
I have some mad love for Hublot. There, I said it… again! A little over a year ago, I wrote about five watches from the 1980s that are still cool today. In the article, I picked the Hublot Classic Fusion Chronograph as one of the five watches that still has a great sense of cool. The Classic Fusion was the brainchild of Italian creative mastermind Carlo Crocco who started Hublot. When the watch was introduced in 1980, it was unheard of that you would combine a precious metal case with a rubber strap. The blasphemy!
Fast forward forty years, and that same combination has been universally embraced. Some of the most stunning watches currently out there are timepieces that come with a gold case and a rubber strap. But at the time, rubber straps were associated with cheap quartz watches instead of expensive luxury timepieces. So Crocco was way ahead of his time and could be considered one of the watch industry's visionaries that changed how we look at watches. But Crocco's name hardly ever comes up in discussions about the watch industry's greats.
Another name connected to Hublot that does pop up in those discussions is that of the one-and-only Jean-Claude Biver. And it's Biver who is largely responsible for how we look at Hublot today. In the ever-puritan world of watches, there are always brands frowned upon by "true believers" in horological virtue. Hublot is probably the most hated brand on the planet within the hardcore watch-enthusiast crowd. And I must say, some of the reasons make sense — oversized flamboyant timepieces, milking the concept of limited editions, and catering to a crowd that is almost solely interested in wearing a statement of wealth. It's not how I experience the world of watches at all.
While I do not relate to the world that Hublot targets, I respect Biver for seeing the potential and creating a brand that appeals to a new audience and has become highly successful. It's simply separating my personal preferences from my professional interests in marketing. On top of that, I have always been interested in finding out what the brand comes up with in terms of design, materials, and technology. While the Big Bang was a much-debated watch in terms of design, its link to Crocco's principles is what I respect about it. While you can hardly call the Big Bang an "original" design, I don't think it's an ugly watch. Far from it. I liked some of the executions, especially the ones pushing the boundaries of new materials.
Talking about pushing boundaries, Hublot also doesn't shy away from working with other brands that you would not directly relate to the world of watches. It's there that I sometimes find great enthusiasm for Hublot timepieces. The idea of coming up with something creative and new appeals to me greatly. And it's as much about the idea as it is about the execution. One of the examples is the ongoing partnership with Italian leather maker Berluti. It was the idea of combining two traditional crafts that could lead to spectacular results. While the results of the partnership have been mixed, it has always been interesting to see what the brands come up with.
The same goes for the ongoing partnership that Hublot has with Lapo Elkann. Hublot and Giani Agnelli's grandson have come up with a string of releases since 2015. First, it was with the Italian Independent, and later it changed to Elkann's other business venture, Garage Italia. Now, I could get into all the stories of Elkann's shenanigans from over the years, with staging his own kidnapping in the company of a transsexual escort as the most recent highlight. Everything about that situation had Charlie Sheen-esque ridiculousness written all over it. But there is no denying that Elkann also has another side to his persona that is far more interesting.
Apart from Elkann's seemingly messy private life, he is also labeled as a man of great style. He owns his grandfather's collection of bespoke Caraceni suits that he had re-tailored to his size and preferences. It has been a great way of preserving his grandfather's suits and better than them being destroyed or falling into the hands of a collector. This world of suits and tailoring inspired my guilty-pleasure watch, or rather, a series of watches, I should say. Because the Hublot Classic Fusion Italia Independent collection is more than just one watch; it's a story of six unique watches that Hublot released with Elkann's company Italia Independent in 2017. Elkann developed the watches for Hublot in collaboration with famous Italian tailor Rubinacci.
The project was a great step up from the previous releases that Hublot and Italia Independent worked on. The partnership started in late 2014, and in 2015, the first watches saw the light of day. The two Big Bang Unico Italia Independent Limited Editions were introduced at Baselworld 2015. Both watches showcased a combination of Hublot's new Texalium material (aluminum-coated carbon fiber) with traditional blue and gray denim. The brands released a follow-up to that first duo with the Big Bang Unico Italia Independent "Camouflage" Limited Editions a year later. But while those watches were interesting in their materials and execution, they weren't necessarily for me.
In 2017 however, Elkan, Hublot, and Rubinacci came up with a series of six Classic Fusion watches with special dials and straps. To this day, they are still the best releases that came out of the partnership. On top of that, they show the limitless possibilities of creating original timepieces. The idea was fairly simple but brilliant in its execution. Elkann had a chance to work with Luca Rubinacci from the House of Rubinacci. The Neapolitan luxury clothing company founded in 1932 holds a stunning collection of fabrics in its archives.
From those archives, Luca Rubinacci, together with Elkann and Hublot, found a collection of spectacular fabrics from the 1970s that they used for the dials and straps of the watches. The canvas for these unique materials was the 45mm Hublot Classic Fusion Chronograph. Two of them were executed in titanium, two of them in black ceramic, and the final two were in Hublot's King Gold. Each came with its fabric used for the dial and the rubber strap. While I love the look of a good suit, and I have great respect for the traditional Italian and British world of tailoring, I hardly ever wear a suit. That's possibly why this collection impressed me so much. If you do not wear a suit, it's still a great way to enjoy the magic of Rubinacci's great history and experience the great fabrics.
I love the choice for the Classic Fusion for this third collaboration. Not only is it my favorite Hublot model, but it also is more refined than the Big Bang, and therefore, a better match for the stylish fabrics. I also like the choice of the chronograph version because it adds an extra visual dimension that I love. Now, I could tell you about the HUB1143 caliber based on the ETA 2892 and how it operates at 28,800vph and has a power reserve of 42 hours. Or I could tell you how the watch is only 50m water-resistant. But that's not what this collection is about. It's all about style, and either you like it, or you don't. It's really that simple. Some people love this collection, from its idea to its execution, and others hate it for the very same things. I adore it, and I'm not afraid to say it.
My personal favorite out of the six watches? The titanium Hublot Classic Fusion Chronograph Italia Independent "Pied De Poule" (Houndstooth). Unfortunately (in my book), the watch was associated with the colors of Elkann's favorite football club, Juventus, which his family owns. I don't care much about football, and it's why the brilliantly stylish watch could do without that reference. Other than that, the watch looks stunning, and I could see myself wearing it daily.
The black ceramic Hublot Classic Fusion Chronograph Italia Independent "Tartan" would be a great second pick. Those would be the two models from the collection that I could easily wear every day and which would be a great match for my usual clothing style. A big part of those picks has to do with my strong color preference for black. Additionally, I like the style of the Classic Fusion chronograph. I admit that the watch is on the larger end of my preferred size spectrum. But I know from experience I can perfectly pull it off, especially with its 13.05mm height. And this second pick with its black ceramic case will make the watch look a bit smaller on the wrist thanks to its dark color.
You might be asking, "Would you actually add this to your collection?" And my honest answer is a wholehearted "YES!" If the price is right, one of my two favorites could very well be a great addition to my collection. But these puppies didn't come cheap at their introduction, and they still go for a significant amount of money. The titanium models retailed for CHF 14,300, the black ceramic models came in at CHF 15,300, and the King Gold models were a whopping CHF 33,300. Great style didn't come cheap back in 2017.