Hublot Spirit of Big Bang King Gold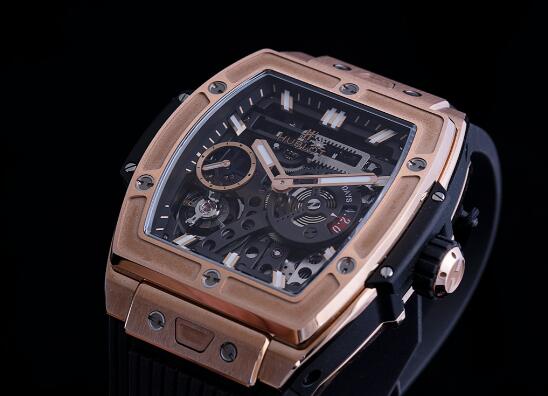 As a parent of two children, there is something comforting when a stranger remarks that they share a likeness to me. This is not to cast aspersions on my wife's fidelity. But rather, the reassurance that we share a physical likeness, mannerisms and personality traits is heart-warming. Evidently, we are all individuals but familiar characteristics elicit a sense of belonging.
The same could be said about this new timepiece from Hublot. It is a clean sheet design, imbued with freshness, but it has some elements in common with the popular Big Bang which proffer a pleasing familiarity.
The Hublot Spirit of Big Bang is the first tonneau-shaped model from the brand, save for a small number of limited edition Senna models.
If I am honest, I have not liked every Big Bang model; some have been a little too conspicuous and flamboyant for my own taste. But, the Hublot Spirit of Big Bang immediately appealed to me as I placed it upon my wrist. I have always liked tonneau shaped timepieces, albeit they have historically never proved as commercially popular as round watches.
"King Gold" – my personal favourite
This particular model is available in four versions, titianium, titanium with ceramic, "King Gold" and "King Gold and Ceramic". It is the curiously named "King Gold" model that appeals to me the most.
As a former marketing professional, I find Hublot an interesting watch brand. The company exhibits a competence to engage with potential buyers unlike any other brand of recent times. This is borne out by its relatively quick growth. Indeed, it must be remembered that the brand was only founded in 1980, which, in the world of horology, is a relative new-start. Moreover, when the charismatic Jean-Claude Biver took on the role of CEO in May 2004, the company experienced incredible exponential growth.
Returning to the term "King Gold", I initially thought this was purely 18-carat gold, subject to a little branding know-how. However, the 18-carat gold, which has a particularly attractive hue, contains 5% platinum. I can report, it looked resplendent on my wrist.
Design elements in common with Big-Bang
Those readers familiar with the Hublot Big Bang will immediately recognise some of the styling elements which have been adopted for the "Spirit of Big Bang". The six H-shaped titanium screws adorning the bezel punctuate the adjacent recessed areas. The strap is joined to the case, again employing two H-shaped titanium screws either side of the case and bestow a robust mien. Black composite resign lateral inserts and the "overmoulded" rubber screw-down crown also reference the popular circular Hublot Spirit of Big Bang models.
Hublot has also introduced an additional element that is recognisable to all watch fans, the movement. The HUB4700 automatic skeleton chronograph movement is new, but draws on the expertise of fellow-LVMH watch company, Zenith. The Zenith El Primero movement needs little introduction. The fully integrated, self-winding movement from 1969 was arguably the first of its type, hence the name, and it has been revered by watch enthusiasts ever since.
Some elements of the movement repeat the formula of familiarity, such as the date aperture between 4 o'clock and 5 o'clock, the optimally located subdials and of course the frequency of 5Hz. However, other elements are most definitely new and differentiate this movement from those appearing in Zenith models. For example, the date disc is readily disclosed, and a unique, open-worked oscillating mass is visible via the case back.
Are there any elements which detract from the ownership proposition? Ideally, the dial flange should not obscure the sight of the date disc adjacent 9 o'clock. However, this detail is so small, that I did not initially spot it when I placed the watch on my arm and, in all honesty, I only noticed it when reviewing the images I took of the watch.
The Hublot Spirit of Big Bang is, to date, my favourite model from the brand. It delivers an interesting appearance, with familiar details of the Big Bang, and a tried and trusted movement with Zenith involvement. In particular, I like the naked appearance of the movement, visible via the dial as well as the exhibition caseback.
This is a new timepiece from Hublot, presented in a different shaped case, yet delivering a reassuring family likeness and gorgeous movement. Its provenance is known, its genetics are clearly evident. Indeed, no paternity test is needed with the Hublot Spirit of Big Bang.