Hublot Spirit of Big Bang Rainbow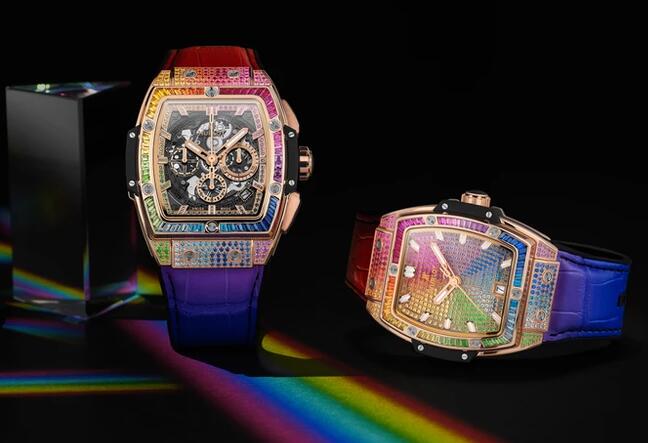 A celestial or divine manifestation that called for reverence or hope depending on the civilisation, this bridge between the earth and the sky was deconstructed by Isaac Newton in his theory on light and colours. These days, however, the Hublot Spirit of Big Bang Rainbow remains a symbol of peace, joy and optimism. Like a modern alchemist, the master of the Art of Fusion, Hublot has rendered this fleeting optical phenomenon immutable by designing the Spirit of Big Bang Rainbow, two 39-mm and 42-mm timepieces, thus enshrouding the beginning of 2020 with good omens. Like a rainbow of gemstones, they make this colour spectrum sparkle, prolonging its hitherto ephemeral appearance.
After the Big Bang, it's now the Hublot Spirit of Big Bang Rainbow turn to take on the colours of the Rainbow! The soft shade of the cases in King Gold takes on the colours of the rainbow with a shimmering paving of round and baguette-cut gemstones. On the 42-mm Spirit of Big Bang Rainbow, the hour hand clasps the chronograph skeleton movement like the claws of a precious setting, while sapphires, rubies, topazes, tsavorites and amethysts entirely cover the dial of the 39-mm model with sparkling reflections.
The seven famous colours indefinitely extend their power by also covering the alligator straps. These two newcomers reignite the success of the Hublot Spirit of Big Bang Rainbow collection whose design is directly inspired by the Big Bang with a barrel shape. This is a unique case construction that enables an infinite number of combinations of materials and colours and encloses the Hublot HUB4700 movement, considered by connoisseurs as one of the best Swiss chronographs ever made.
Founded in Switzerland in 1980, HUBLOT stands out thanks to its innovative concept arising from the all-new association of gold and rubber: the "Art of Fusion" was born from the visionary imagination of its Chairman, Jean-Claude Biver, and driven along by the acumen of Ricardo Guadalupe, its CEO since 2012.
Then the birth of the multi-award-winning iconic Big Bang model in 2005 paved the way for new flagship collections (Classic Fusion, Spirit of Big Bang), from the most sophisticated to the simplest complications, thus creating the exceptional DNA of the rapidly expanding Swiss Watchmaking Manufacture.
Mindful of preserving its traditional and leading-edge expertise and guided by its "Be First, Different and Unique" philosophy, the Swiss Watchmaking House demonstrates constant avant-gardism, through its innovations with materials (Magic Gold—scratch-resistant gold, brightly coloured ceramics, sapphire) and the creation of Manufacture movements (Unico, Meca-10, Tourbillon). Between the past and the present, HUBLOT has focused on a visionary future for a Fine Watchmaking House: that of fusion with the great events of our times (FIFA World CupTM, UEFA Champions League, UEFA EUROTM and Ferrari) and the finest ambassadors of the moment (Kylian Mbappé, Usain Bolt, and Pelé).