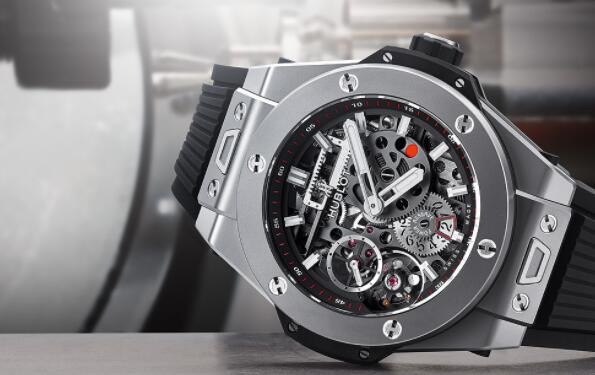 Hublot describe their Meccano-inspired Hublot Big Bang Meca-10 as a 'transitional object'. It's an interesting choice of phrase. You could take it literally and assume that Hublot are referring to the watch as a way for people who obsessed about Meccano and technical constructions when they were younger to move into some more grown up gadgets. Or you could interpret that it's talking about a transitional object for Hublot the brand, and their design language. We are erring on the side of the latter. You see, we think the Hublot Big Bang Meca-10 is quite an important watch. With a deep new movement (that isn't a chronograph) and a look that somehow seems even more confident and assured, we can't help but wonder if this the start of the next chapter of Big Bang?
What dial? But seriously folks, it looks like Hublot forgot to include the dial when they cased up these watches. And honestly, we're so glad they did. Because the view of the pinions, gears, wheels and springs draws you in with seemingly endless, enthralling detail. And Hublot is absolutely right; if you were the sort of kid that loved making complex Meccano or Lego creations then you'll find a lot to love here. Heck, even if you're a fan of Hublot's industrial style, this playground of intricate parts has plenty to keep you entertained. So that's the form covered off, but how about the function? Well, time telling is surprisingly legible thanks to the super wide handset. In terms of other functions, there's running small seconds at nine, and not one but two power reserve indicators. The obvious one at six, which shows you how many days you've got left through the red aperture, and the more subtle read out at three, which shows red when you're in the danger zone of the last two days of power. In fact, there's actually a third indicator, the rack and pinion at the top of the dial can be used as an impromptu measure if the other two aren't your style.
The case of the Meca-10 doesn't stray too far from Hublot's established path, through I must say that the absence of chronograph pushers took a little getting used to. In terms of case material the Meca-10 comes in two options, matt microblasted titanium, or a polished (and microblasted) black ceramic (the Meca-10 All Black), both limited to 500 pieces. It's not small at 45mm across, but this isn't a watch that you want to fly under the radar. The Hublot Big Bang Meca-10 runs off a brand new movement, the HUB1201, a visually impressive manually wound number that packs a solid 10 days of power into two barrels. Of course the movement is on show from the front, and it's there to see from behind too, with three parallel bridges, detailed to look like Meccano, but presenting a more clean, horizontally stacked structure. Hublot has also done a solid job giving what's essentially a fairly simple movement with power reserve indicators great depth visual interest. We can't wait to see what form the HUB1201 shows up in next.
The strap is rubber, in typical Hublot style, with a single fold deployant. Wide, comfy and just right for the style of the watch.
In my humble opinion Hublot has been firing on all cylinders this past year or so, in comparison to many of their peers and competitors who have been playing it safe. Hublot's integration of materials in their Berluti and embroidery watches is genuine innovation, and their Texalium collab with Lapo Elkann is the sort of pure fun we expect from the brand. They're pushing boundaries with watches such as their LaFerrari concept pieces and all sapphire Big Bangs, and listening to what the people want with attractive numbers like their smaller Spirit of Big Bang Moonphase and extended Classic Fusion lines. Somewhere in the middle of this profusion of colour and creativity sits the Meca-10. Playful, innovative and on-brand. For all their sponsorship tie-ins and partnerships, Hublot is leading the industry when it comes to big brand creativity and use of new materials. I might get pilloried for saying this, but if Max Büsser from MB&F ever made a Big Bang, you'd probably end up with something like this.