Jaeger Lecoultre Reverso Tribute Enamel Hidden Treasure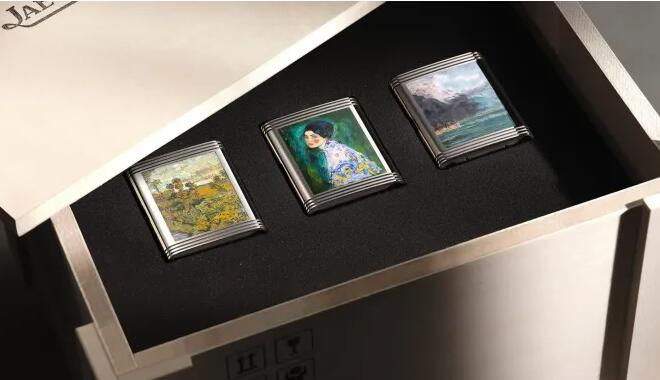 2021 marks the 90th anniversary of the birth of the Jaeger Lecoultre Reverso Tribute Enamel Hidden Treasure model and as a part of the celebrations, the brand has released the Reverso Tribute Enamel Hidden Treasures, a trio of watches that celebrates the work of three great masters from the dawn of Modern Art: Gustave Courbet, Vincent Van Gogh and Gustav Klimt. The new timepieces also unite three distinct artisanal skills practised within the Manufacture Jaeger-LeCoultre: grand feu enamel, miniature painting and guillochage – the latter executed on century-old, hand-turned machines.
The Jaeger Lecoultre Reverso Tribute Enamel Hidden Treasure collection is closest in its stylistic details to the 1930s originals, and in these three new watches, the signature simplicity of their dials enhances the subtle beauty of the guilloché backgrounds. The colour of each dial – a different shade of misty blue or green – hints at the colours of the enamelled treasures hidden on the reverse side, while the restrained design contrasts with the richness and detail of the miniature works of art.
The three paintings reproduced in the Jaeger Lecoultre Reverso Tribute Enamel Hidden Treasure triptych represent three markers of a major watershed in the Western artistic tradition, from the 19th-Century Realism of Courbet, to Van Gogh's Post-Impressionism, to the expressive and experimental spirit of Klimt and the Viennese Secession. To honour the Reverso's unique ability to hide or reveal the artistic treasure created on its reverse side, the Manufacture's researchers identified three beautiful paintings that had been hidden from the world for many decades – assumed to have been lost for ever until rediscovered and authenticated in recent years.
Exiled from his native France in 1873, Gustave Courbet settled near Vevey, on the shore of Switzerland's Lake Léman (Lake Geneva), where he was inspired by the constantly changing views across the water. In this beautifully atmospheric work, Courbet has captured the movement of the clouds and the sunlight on the lake's surface.
Reproducing a major portion of the work for the Jaeger Lecoultre Reverso Tribute Enamel Hidden Treasure, Jaeger-LeCoultre's master enameller has perfectly captured the delicate colour palette, fine details and evocative atmosphere of the original. The soft tones of the painting are perfectly complemented by the gleaming white gold case, and by the subtle herringbone guilloché texture of the misty grey-blue dial.