Breitling Chronomat Automatic 36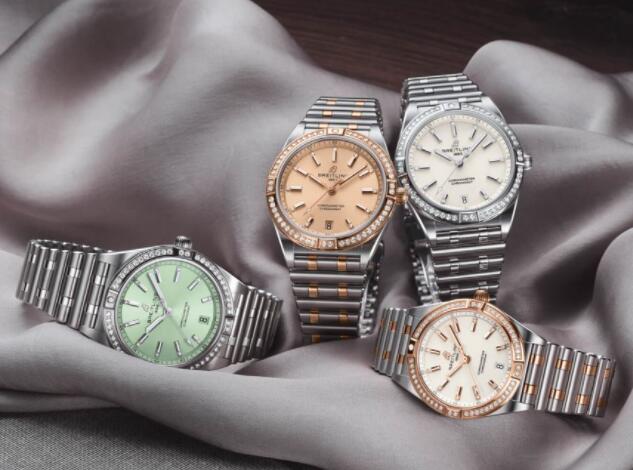 The
Breitling Chronomat Automatic 36
is a new ladies' timepiece equipped with a COSC-certified automatic movement. While the Grenchen-based firm has made ladies' watches for some time, they have sometimes appeared like scaled-down versions of the brand's men's models. However, everything has now changed with the advent of these new watches, which remain sporty and practical, but now look overtly feminine.
The Swiss marque Breitling is often associated with aviation, chronographs, chronometers and men. The muscular case contours and bezel overriders found on some Breitling models reinforce this masculine persona.
However, since Georges Kern assumed the role of Breitling CEO, the firm has endeavoured to broaden its appeal, releasing new models that tap into new market segments. The firm has recruited squads of male and female ambassadors intended to resonate with corresponding audiences. The brand has made ladies' watches for some time, however, they have proved less popular than their male counterparts, albeit I suspect this is about to change.
As part of Mr Kern's new strategy, the Swiss company has just announced its 'Spotlight Squad' featuring Charlize Theron, Misty Copeland and Yao Chen. This coincides with the release of the Breitling Chronomat Automatic 32 equipped with a COSC-certified quartz movement and, more pertinently for ESCAPEMENT, the Chronomat Automatic 36 fitted with a COSC-certified automatic movement.
Male fans of Breitling will be familiar with the longstanding Chronomat. However, these new feminine models differ from the brand's female offering of the past in that the bezel overriders possess a softer, more gentle appearance. Furthermore, the dials eschew the central square of lines, now embracing a cleaner, uncluttered appearance, and feature the brand's gender-neutral 'B' logo – the wings are no more.
While some things are new, other elements are familiar. For example, the fluted, slightly bulbous crown has been retained. The bullet bracelet is back, albeit subtly modified for today's audience. Breitling has released new gem-set options and an array of dial hues. Where the dial options in the past looked a tad masculine, the Swiss firm now offers an array of feminine dial colours more befitting a female audience. Personally, I find the new pale green dial particularly stunning.
Put simply, the new Breitling Chronomat Automatic 36 looks sporty, practical and notably feminine.
With its commitment to core values and innovation, Breitling is also about pushing boundaries, whether it is high above the clouds, on the ground, or deep below the ocean waves. As versatile and attractive as the Spotlight Squad, its latest collection – the Chronomat 36 and 32 series – takes women wherever they want to go.
Breitling's first­ever Chronomat designed for women is suitable for any mission. While its roots are in the 1980s, this forward ­looking timepiece is dedicated to innovative women of today who are reshaping atti­tudes and challenging stereotypes.
Sporty yet elegant, this modern­retro­inspired watch easily takes its wearer from business meeting to the beach – and everywhere in between. It symbolizes competence and effortless style.
Everyday Luxury in Two Sizes and many Faces breitling chronomat automatic 36 south sea
The stunning watches in the Chronomat for Women range feature Breitling's iconic Rouleaux bracelet with a butterfly clasp, which is as robust as it is elegant. Like all Breitling watches, the chronometers are COSC­ certified – an independent confirmation of their Swiss precision. Swimmers, surfers, divers, and even bath­ tub mermaids will appreciate their 100­meter water resistance.
In terms of finish, these timepieces are nearly as di­verse as the women on the Spotlight Squad. Along with the choice of sizes (36 mm Automatic and 32 mm SuperQuartz), they are also available in an array of metal cases: cool stainless steel, goes­with­everything bicolour, or luxe 18 k red gold. Women craving extra sparkle can opt for diamond­set bezels and indexes.
The Breitling Chronomat Automatic 36 is powered by the Breitling Caliber 10 with a reserve of about 42 hours. There are ten versions to choose from, with special lacquered di­als in white, pale green, midnight blue, or copper.
The Chronomat 32 runs on the Breitling Caliber 77 and has a battery life of three to four years. It comes in sev­ en versions, with white or midnight blue dials.
A Nod to Tradition
Since the 1940s, Breitling has created a variety of ded­icated women's models. There was the delicate ladies' TransOcean, called the "most wonderful expression of Breitling precision" back in 1957. The Lady J made a bold statement in the 1990s. Then the Galactic brought a "blend of refined luxury and uncompromising technical sophistication" in 2010. More recent women's timepieces include the iconic Navitimer 35 and 38 and the sporty Superocean 36.
The original 1984 Chronomat helped signal a rebirth of the Swiss watch industry, and it has inspired many more timepieces over the past four decades – includ­ing women's models.
Today, the modern­ retro watches of the Breitling Chronomat Automatic 36 and 32 collection shine the spotlight on confident and versatile women.