Breitling Navitimer 1 35 Automatic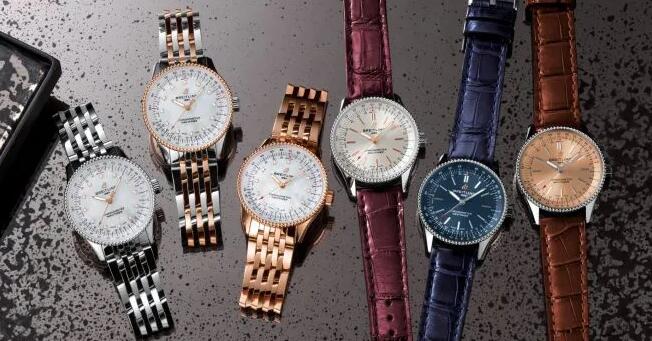 The Breitling Navitimer Automatic 35 has always been the company's bread and butter model. It first surfaced as the iconic pilot's watch Ref. 806 as a chronograph back in 1952, and it has been re-issued into several modern interpretations. This year, Breitling is back with a new Navitimer for women – the Navitimer Automatic 35. You might recall that back in 2018, Breitling launched a 38mm Navitimer that was marketed as a women's piece. This year's offering is slightly smaller, measuring 35mm, has no date, and comes in five different options with a bracelet or a strap. The Navitimer Automatic is available in stainless steel with a blue, copper, or silver dial and stick indexes. Additionally, there is a stainless steel version, a red-gold, and a two-tone steel and red-gold version that come with a mother-of-pearl dial and diamond-set indexes. All are powered by the automatic caliber 17 movement, based on the ETA 2824-2, which is the same caliber used in most of the recent Breitling Navitimer Automatic 35 including the 8 Automatic.
The Breitling Navitimer Automatic 35 is a staple for Breitling, so I am not surprised by this launch. Ever since CEO Georges Kern took over back in 2017, it was his mission to revamp one of the top-selling brands in the world. One thing that he did was focus on making the brand more female-friendly by pivoting away from hyper-masculine advertising and launching watches that were appealing to both men and women, including the Navitimer 38 from 2018. This 35mm version of the watch is no different, and it shows that Breitling continues to invest in their ladies' collections.
That said, I think this watch is very nicely done. It's offered in a comfortable size to most, has the classic rotating beaded bezel, has a sturdy caliber, and comes in a range of colors and materials that appeal to most consumers. Breitling Navitimer Automatic 35 has been and always will be a consumer-focused manufacturer, and that can be seen in this year's launch of products, which are especially welcome in a climate like today's. For me, my favorite of the bunch is the copper dial in stainless steel, which further ties the vintage design back to a dreamy time of salmon dials and white metals. What's not to like?