Hublot Big Bang Diamonds 38 mm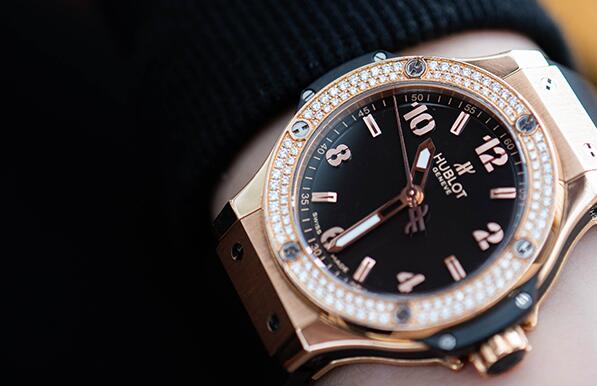 Let's face it, women are not buying women's watches necessarily; they want a watch that does not discriminate, with a bit of bravado, whether by means baller or boxer. That said, the full diamond effect in every direction, of the kind that was Hublot's 2 million Euro 44mm 145-ct Big Bang behemoth, with its baguette-laden strap, case and dial, is too chunky a statement for most women. Well, with the exception of the wife of a Vegas casino owner, who naturally felt right at home in it and swiftly claimed hers. I prefer to make like a Mayweather cornerman, not exactly all-retiring, more the fall-back of outlandish. And this Hublot ladies 38mm Big Bang Steel Diamonds has just the right proportion of diamonds to monochrome styling and height on the wrist to make that spot attainable, while It feels more unisex in fact.
The black rubber Hublot hallmark strap — in this case finely lined, though the tactile sensation approaches suede rather than any noticeable ridging — sets the sports luxe tone. Followed nimbly by the enduring industrial, tool watch details of the Big Bang's multi-material, polished and matt case that sits in eminent view on the wrist, with its six exposed titanium screws securing the round bezel designed with a porthole in mind.
The mechanised substance of the watch's aesthetic is further underscored by one of my favourite elements of the dial and one that Hublot fans will know well. The big and blocky alternating, satin-finished, rhodium-plated numerical hours and simple hour markers that are all incised with a machine line with a polished finish, attractive against the brushed main index surface.
And while the rubber strap, with its unexpectedly light stainless steel deployant buckle, was surprisingly soft and light, there is no denying the weight of the polished and satin-finished case, measuring up 10mm from its base to the top of the bezel.
For me, the main attraction is the side view of the case's multi-component sandwich construction and what appears to be a seamless transition of the rubber strap to a similarly jet-toned Kevlar that continues through to the strap again. Seen from this perspective, the case has the impression of a polished steel, bulletproof Licorice Allsort. But the crown, which resembles a more detailed car oil filler cap and is backed up by a handle-barred border, promptly dispenses with the childhood pleasure, reinstating Hublot's robust vibe.
Large sport watches are part and parcel of the contemporary watch vista, and the Big Bang is an important part of the landscape. And whether there are diamonds on a Big Bang or not, no one is likely to fail to notice your watch choice. This watch, however, has diamonds — 126 of them, totalling 0.87cts, restricted to two circuits of the bezel, with the lugs left in peace. The inner circle features slightly smaller diamonds. The polished surfaces of four smaller screws on each side of the case have their own diamantine little flares too, without any gem involved, as you move your wrist.
For all their avant-garde techniques and the Art of Fusion philosophy, when it comes to diamonds, it should be more known that Hublot adheres to time-honoured care handling diamonds, as it relies on traditional stone-setting techniques as well as advanced technology to set timepieces. The brilliant cut rounds on the bezel are set with the grain method, where four almost-invisible tiny metal claws clasp four points of each diamond. All diamonds in the Hublot atelier are G or fine white grade.
This hublot 38mm steel Big Bang is a stealth keeper, with just the right amount of pristine white light, contained to the bezel. The embellished and multi-coloured Big Bangs beloved of the NBA, music moguls, boxers and those who ascribe to the bigger-is-better dictate are not for all, but this specimen is a winsome tempering of fully-cloaked bling.
Most of the reviews we do here are new models – the latest and greatest. Not today. Today I'm taking a close look at a watch that changed an industry, and can be largely held responsible for the 'big watch trend' that's dominated design since its release a decade ago.
Could the Hublot Big Bang – reference 301.SB.131.RX (catchy huh?) please stand up?
Even though Hublot have released what seems like thousands of subsequent Bangs in every conceivable colour, flavour and material the original is still in their catalogues, and still a strong performer.