Maximum accuracy with the Breitling, Tudor and Akrone chronometers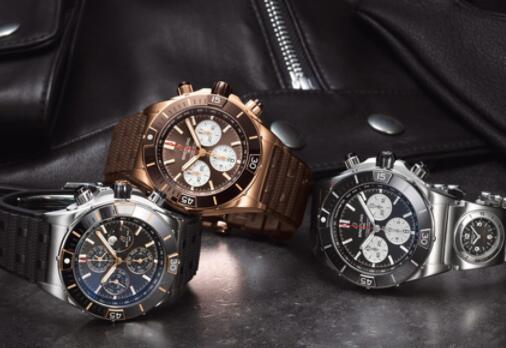 To be considered a chronometer, a watch has to be tested and certified by an official institute. Let's take a closer look at this with Breitling, Tudor and Akrone's models, which are certified by different organizations.
Chronometers are kind of the ultimate goal for watchmakers. Just like magnetic fields are their bête noire. The accuracy of mechanical watches has always been the centre of attention in the workshops of great houses.
It should be noted that, during the day, there is necessarily a small difference in the time told by a mechanical watch. Only the absolute time told by atomic clocks is perfectly regular. Even a quartz movement (32 Hz) is late compared to them. Let's not even talk about a mechanical calibre (3, 4 Hz or even 5 Hz)! Frank sans C offers some explanations in his video on the subject: Rolex VS Swatch!
Some instruments are much better than others. In the watchmaking world, these highly accurate watches are called "chronometers".
But beware not to mistake it with a chronograph, which is a sports instrument equipped with an additional function to measure times.
Still, though a chronometer is not a chronograph, a chronograph can be a chronometer….
To determine whether a watch is a "chronometer" or not, the watchmaking houses have no other choice than to have them be certified by an independent official institute.
Indeed, only a metrology laboratory with all the necessary measuring tools can deliver this certification. Without it, it is in theory impossible to put the word chronometer on the watch.
Only a small number of organizations are specialized in chronometry. And only a very limited number of watches is sent by the brands to be evaluated.
The COSC is the most famous Swiss institute, but there is also the METAS. France does not fall behind with Besançon's Astronomical Observatory and its famous Tête de Vipère stamp.
Founded in 1973, the COSC is the undisputed and most solicited organization in Switzerland to get the title of chronometer. The uncased calibres undergo extreme tests there.
The evaluation process of the mechanical movements takes fifteen days and fifteen nights. The calibres – which are tested in different positions and at different temperatures – must remain between a -4/+6 seconds difference per day compared to atomic clocks.
The COSC tests about 1.8 million watches each year – all types included. There is no other institute like it. But behind this impressive number, there is another reality.
Though only 5% of watches fail the tests, there are few certified models. They only represent about 6% of Swiss watches.
When speaking about COSC, two watchmaking houses specifically stand out: Breitling and Rolex.
These two houses are among the very rare Swiss manufactures to get all their instruments COSC-certified. And Breitling does so whether the models are quartz or mechanical watches.
The Breitling Super Chronomat 44 chronometers
The new Super Chromat 44 is a perfect symbiosis between a sports spirit, an elegant design and a chronometric accuracy.
With its 44 mm diameter, the model is inspired by a Frecce Tricolori watch designed in 1983 for the pilots of the Italian aerial squadron.
Two different versions of the watch are available in several variations. One is equipped with the Manufacture Breitling 01 automatic calibre while the other one integrates a "semi-perpetual" calendar.
Super Chronomat B01 44: the ultimate multi-purpose chronometer chronographs
The steel reference and its automatic B01 movement – which wheels are seen through the case back – comes with a lot of assets. Especially for those who like sports models which showcase both character and elegance.
Its reverse panda dial is surrounded by a tachometer on the inner bezel. And the case comes with a unidirectional rotating bezel featuring a ceramic insert.
Water resistance up to 200 metres, screw down crown, push-piece and caseback, Superluminova hands and indices: the Breitling Super Chronomat B01 44 model is a resistant and functional chronograph which can adapt to any situation.
Even more so as this chronograph made for adventurers can also be worn by globetrotters. Indeed, Breitling offers a version integrating a small UTC module on the "Rouleaux" bracelet.The other variation of the Super Chronomat 44 Four-Year Calendar features another automatic movement (Breitling 19 calibre), which also includes a chronometer function and displays the date, the day, the month and the moon phases.
This calibre integrates a calendar mechanism called "semi-perpetual" which only needs to be adjusted on leap years, or every 1,461 days.
Chronographe Breitling Endurance Pro, the SuperQuartz chronometer for the athletes of the IronMan Championship
As I said before, Breitling's quartz movements are also certified by the COSC. And the manufacture designed its own thermocompensated system – the SuperQuartz. It is ten times more accurate than a standard quartz movement which, in theory, showcases a 32,768 Hz vibration frequency and a difference of less than one second per day.
The Breitling house, a partner of the renown Iron Man competition, designed instruments proportionate to the extraordinary performances of the athletes of this extreme race. For those who watch Frank Sans C's YouTube videos, this is the reason why Audemars Piguet could not make an Iron Man watch despite its partnership with Marvel!
his 44 mm diameter Endurance Pro chronograph features a rotating bezel displaying the cardinal points, as well as a dial featuring large luminescent hands and numerals. There is also a heart scale on the inner bezel to measure the user's heart rate.
Water resistant up to 100 metres, the Endurance Pro comes with an ultralight case made of Breitlight. It is an exclusive composite material made of carbon, 3.3 times lighter than titanium, as well as non-magnetic and hypoallergenic.
Master Chronometer, the METAS certification for accurate and non-magnetic watches
METAS is becoming the talk of the world of watchmaking. And for a reason. The Swiss Federal Institute of Metrology has designed a certification which surpasses all that has ever been done before. And it is, evidently, very hard to obtain it.
This certification, named Master Chronometer, goes even further than the COSC's extreme tests. But it is inspired by the notorious institute since a watch cannot apply if it is not Swiss made and certified by the COSC beforehand.
Between chronometric accuracy (obviously), magnetic resistance, water resistance, as well as autonomy, METAS is redefining the level of requirements.
The accuracy performances are evaluated at two temperatures, in six different positions (some of which are not tested by the COSC) and two levels of winding of the barrel (100% and 33%).
The first difference is that the Federal Institute of Metrology necessarily tests the finished watch and not just the calibre.
Secondly, the accepted difference per day is of 0/+5 seconds a day…
Yes, you read that right: a Master Chronometer-certified watch cannot be late! Except when its power reserve is down. But even when stopped, "it will tell you the right time twice a day". Another feat the instrument needs to achieve to get the precious METAS title: be resistant – while still being accurate – to extreme magnetic fields of 15,000 gauss. This is extraordinary since this intensity corresponds to an MRI scan.
Black Bay Ceramic, the very first Tudor Master Chronometer watch
Though the certification delivered by METAS was, up till very recently, the exclusive domain of the Omega manufacture, another brand managed to get the Master Chronometer title.
Indeed, Tudor's house developed a special Black Bay which passed the tests with flying colours. This version of the emblematic vintage dive watch sports a 41 mm diameter and is water resistant up to 200 metres.
The case is made of black ceramic and black PVD-coated steel. And its hybrid bracelet is a combination of leather and black rubber.