Cartier Montre Tank Asymétrique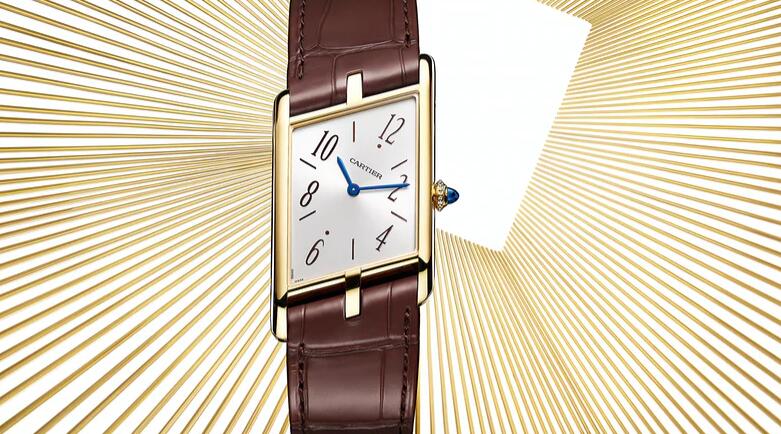 The new Cartier Tank Asymétrique is the fourth watch in the Cartier Privé collection. The Privé Collection, which originally ran from 1998 to 2008, was and is a showcase for classic historical Cartier designs. Since its 2015 relaunch, Cartier has presented new versions of the Crash, Tonneau, and Cintrée watches, with each coming in both a standard and an openworked version. This year's Asymmétrique marks the return of a classic and, for collectors, much-loved and hard to find model. It was first launched by Cartier in 1936 and represented a quite radical departure from normal round case shapes, and for that matter, for rectangular watches as well. The original Tank Asymétrique was supposedly introduced as a way of easing the task of reading the time. If you raise your wrist to check the time, the part of the lozenge with the 12 is uppermost (the Asymétrique was also known as the Losange). But there is no doubt that it was, and remains, a unique design statement as well.
The Cartier Tank Asymétrique originally came in a number of different versions, and since 1936, it has been revisited by Cartier on several occasions. In 2006, 250 pieces in yellow gold were made; in 1999, two sets of watches, which were produced as both right and left-hand versions, were produced in a run of 99 pieces each. It has been made, over the years, both with and without the central third lug, and with both Roman and Arabic numerals. At launch, the new Asymétrique watches will be available in platinum, pink gold, or yellow gold, with the characteristic Cartier cabochon-set winding crown. Each of the three metals – platinum, red gold, and yellow gold – will be released in a limited edition of 100 pieces.
Earlier this year, on one of the last occasions on which we went to Europe, we had an opportunity to see prototypes of the Asymmétrique in Paris, and I think it is one of the most breathtakingly chic watches Cartier has produced in a long time. (As someone once wrote in another context, and I'm damned if I can remember where, "if this watch could talk, it would say, drop dead.") The Asymétrique is a bit of a hard sell to some people – after all, round watches outsell rectangular watches of any kind by a huge margin, and the Asymétrique is a niche within a niche. For all that, it seems to have an extremely wide audience among Cartier enthusiasts, and most watch journalists and specialist writers whom I've seen encounter one over the years gush over them. The design remains fresh after all these decades. Cartier built its reputation very much on its aristocratic hauteur – not for nothing was the company called "the jeweler of kings, and the king of jewelers." The firm that put combining platinum and diamonds on the map is not one which is generally known for exhibiting a sense of whimsy, much less a sense of humor. But the Asymétrique succeeds as well as it does, I think, because it combines very whimsical design with an extremely refined sense of proportion, almost Classical in nature. Sure, it's playful, but it's also an exercise in control and the importance of getting every detail right. That comes along as seldom in watchmaking as it does anywhere else. A combination of contradictory design cues can certainly add up to a lot less than the sum of its parts – it can, in fact, merely seem like an assemblage of contradictions. The magic of the Asymétrique really lies in the way it leverages its almost absurdist concept, and its very austere geometry, into something with a uniquely lively identity. I only had an opportunity to have one on the wrist in Paris very briefly, but as spring wears on, I live in hope that I'll be able to experience the unique joy it brought sometime again soon.
Introduced in 1998 as a platform to celebrate the Maison's historically important designs, the Collection Privée Cartier Paris (CPCP), as it was known back then, showcased some of Louis Cartier's most illustrious works, like the Santos-Dumont and Tank Louis Cartier. The CPCP ran for a decade, with an emphasis on classic codes and heritage, before going quiet and then making a comeback in 2017 with a refreshed take on the Crash watch.
Since then, Cartier has been flexing its design muscles with its new Privé collection that reinterprets its signature silhouettes with dynamic flair. The capsule collection reiterates the Maison's top-notch expertise in this department, with captivating designs that breathe new life into legendary timepieces. Most recently, the Privé collection rolled out new versions of Cartier's Tank Cintrée, as well as its Tonneau wristwatch from 1906. But the newest star on the block is undoubtedly the mesmerising Tank Asymétrique.