TAG Heuer Connected x Super Mario Limited Edition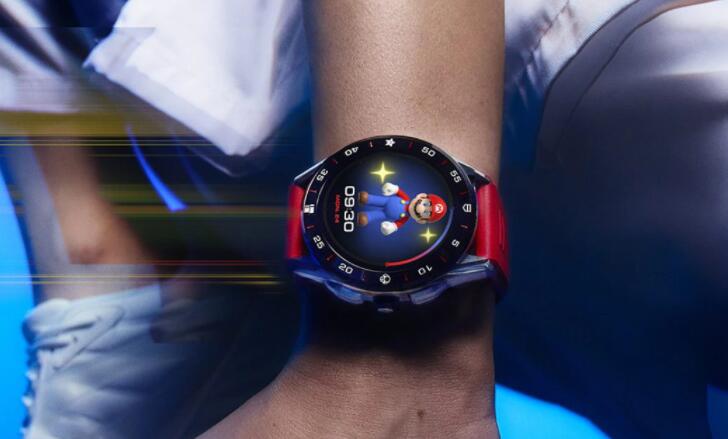 The TAG Heuer Connected x Super Mario Limited Edition is here! We chose to celebrate the release with one of the first people to ever wear the watch, and follow him throughout his day. To avoid being hounded by thousands of curious onlookers, all names and precise locations have been redacted…
Max is 36 years old, sleeps eight hours a day, and tries downing protein shakes but is way too partial to his breakfast of three pieces of buttered toast and jam. His latest obsession? Moving as much as possible! After the lockdown nightmare, he's never been so eager to let off some steam. His mood and mental clarity depend on it—his time figure probably does, too.
He sets himself a goal every morning. The growing-a-mustache one may have been scrapped… he's a clean-cut guy and always will be… but 10,000 steps a day? That's non-negotiable. It's 10,000 steps for mankind, one big leap for the man he'll become! Running a hand through his hair, he winks at the steamy mirror and makes sure his watch is charged before heading out. It's 8:00 am … and time for work.
Max cycles everywhere, but the back wheel on his green fixie has a flat this morning. So he's starting the day with a brisk walk to the bus stop –but the bus is a no show. Always one step ahead, Max keeps walking to the next stop. He tracks his steps on his wrist. He's definitely sweaty on arrival, but the Mario on the dial is boosted by…a Super Mushroom, the first level's magical prize. He's already 25% of the way there!
On the way, Max gets a coffee for his coworker and mentor (and oat milk enthusiast) Edward, which Max laments when he realizes the elevator is still on the fritz.
His quads are on fire as he arrives at the 10th floor without spilling a drop, but the gauge on his watch's dial has jumped quite a bit. He's got a good feeling about today!
Let's get to the meetings. Feeling especially sociable as lunchtime arrives, Max decides to relocate the appointment scheduled for the meeting room to a new restaurant a few blocks from the office. A quick detour to see if the corner bookstore got the comic book he ordered (and get in some nice steps while he's at it), then he heads to the patio to meet his friend Fabrizio, proud owner of an enviable mustache.
Time flies when you're having fun! Max glances at his watch, sees he missed a call from Edward and suggests to Fabrizio that they walk off lunch. Max is increasingly pleased with how the day is going – only 550 more steps!
Thirty minutes and 14 floors later, Max turns off all notifications and sits down on the office building's roof that has a breathtaking view of his beloved Paris. A 10-minute meditation session does the trick and his heart rate is back to normal. Max is as fresh as Mario coming out of the Pipe. He's at 50% of his goal, with 5,000 steps behind him. TAG Heuer Super Mario Connected Watch
He leaves two voicemails before back-to-back afternoon meetings: one for his cousin Pete about a workout/happy hour. When it comes to burning calories and fat, he's definitely got some room for improvement. The other is for his girlfriend Anna about dinner at a trending food hall across town. The consummate foodie in him wants to check it out.
On the way from the office to the gym, Max feels like he's grown wings. He traded in his dress shoes for sneakers and is already thinking about the record he's going to beat in HIIT class and how red Pete's head will be. A star appears on his watch and Mario goes into invincible mode. He's at 75% of his goal!
Just as he does after every workout, Max once again realizes that exercise actually gives you more energy. He enjoys a stroll to recover, while ordering a car to meet Anna, the love of his life. Victory! Super Mario jumps to the top of the Goal Pole before sliding to the ground… and it's mission accomplished: 10,000 steps. Max is grinning from ear to ear – anything more is just icing on the cake.
The world loves Nintendo's mushroom-eating, brick-breaking rotund Italian plumber. He's been the object of affection ever since he was imagined up by Shigeru Miyamoto and introduced to the public in the 1981 video game, "Donkey Kong." There's an annual Super Smash Con, a three-day Super Smash Bros video game tournament complete with DJs fueling nightly ragers in Virginia. Super Nintendo World, a theme park dedicated to all things Nintendo – and largely Mario – opened its doors in Osaka earlier this year.
And now, Mario is leaping right into the world of smartwatches. You can leave your Game Boy behind and take Mario with TAG Heuer's new Mario Connected watch. It's similar to the Connected watch you may already know, but instead of the standard display, this one features Mario. And the more active you are, the more active he is. TAG Heuer Super Mario Connected Watch
The Connected watch gamifies your everyday life and rewards you with thematic animations when you hit certain targets. For instance, when you reach 25 percent of your intended step count for the day, Mario will eat the super mushroom that supersizes him. At 50 percent, Mario travels down the green pipe. At 75 percent, he's invincible after coming in contact with the "super star." And when you finally reach your goal, Mario climbs up the flagpole to victory like he's done in almost every one of his 200 video game titles.
The user interface has been redesigned with Mario colors (red and blue), and TAG Heuer says that – as in Mario video games – there are a few Easter eggs for users to uncover, starting with four dials reflecting different eras of Mario lore.
Two thousand of these watches are being sold – but this isn't a one-off collaboration, it's the first in a larger partnership with more collaborations to come. Mario is a massive franchise worth approximately $30.25 billion; there's no lack of Nintendo lore to draw from.
The Mario Connected watch uses a 1.6Ghz processor (that's far more powerful than the N64 you played Super Mario on) and features 25 hours of battery life under normal usage. The 1.5-inch LCD screen is housed in a 46mm case, and the whole package is a tad over 12mm thick.
I had a moment to speak with Frédéric Arnault, the CEO of TAG Heuer and heir to the LVMH empire, about the watch. When I asked if he played Mario growing up he replied with an enthusiastic "of course!" We touched on the features of the watch and the larger partnership between Nintendo and TAG Heuer, but once we breezed through the specs, it turned into a nostalgia-fueled conversation about playing Mario video games as a kid. Growing up, if I wasn't outside with my hands on the handlebars of a BMX bike, I was inside gripping a controller with Super Mario Kart (remember the "jumping" trick on the rainbow track?) or Super Mario 64 on the screen. And what I learned is that the heir to one of the largest fortunes on earth did the exact same thing.
That's why I find the TAG Heuer Super Mario Connected Watch appealing as a character watch. I generally don't appreciate mechanical character watches, but when it comes to smartwatches it makes perfect sense to me. Apart from telling the time, a smartwatch has way more in common with a video game system than a mechanical watch, anyway – so why not have some fun with it?
Nostalgia is one of the most powerful forces in the watch industry when it comes to design and product development. Reaching into the archives and drawing on lore produces many modern best-sellers; just take a look at the TAG Heuer Carrera Dato for proof. What's funny is that even when it comes to smartwatches – tech-forward by their very nature – we still look to the past to create new products within that space.