Roger Dubuis Excalibur Spider Pirelli Black DLC Titanium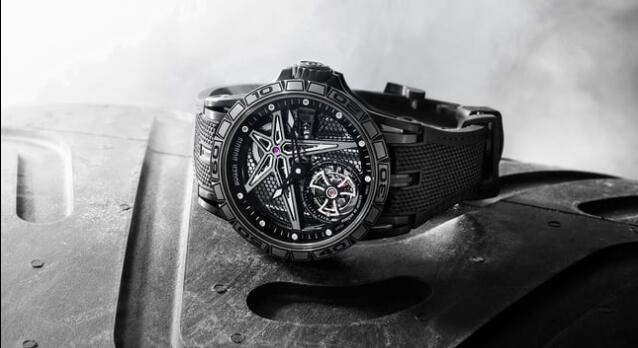 ROGER DUBUIS X MOTORSPORT
Sky blue, wind tame, adrenaline pumping: the open road is ready for your next adventure. When visionary engineers meet incredible watchmakers, iconic timepieces are born. 3, 2, 1: start your engines.
We partner with innovators, those who share our common values. Enter Lamborghini. An unparalleled synergy between two of life's rulebreakers, together we are daring and bold. Ambitious and determined. A charterer of the uncharted. Fuelled by thrills and emotions, we create adrenaline-charged masterpieces for a fearless tribe.
ROGER DUBUIS X LAMBORGHINI SC
Committed to cutting-edge performance, ground-breaking technology and striking aesthetics, Roger Dubuis x Lamborghini Squadra Corse is a high-powered collaboration that pursues perfection. This is about creating unforgettable experiences for you. This is about making every second of life epic.
ROGER DUBUIS X PIRELLI
Heart racing, tarmac scorching, the wheels screaming into life. It's time to start your engines: introducing Roger Dubuis x Pirelli. Created with Pirelli tyres that have won in real motorsports races, these are winning straps for the wrists of life's winners.
ROGER DUBUIS X SUPER TROFEO
We are proud sponsors of the Lamborghini Super Trofeo. Look out for us next time you're watching the drivers race each other to victory in this legendary competition. See you on the next lap.
Roger Dubuis' new Excalibur Spider Pirelli is the first watch to offer not just quick-change straps, but quick-change crown and bezel as well.
Watchmakers are usually more concerned with ensuring crowns and bezels stay fixed to their watches but Roger Dubuis' new system, inspired by the pit stops in motorsport, allows the elements to be swapped out, with a single, positive click offering a reassuring signal that the new part is securely locked in place.
The Quick Release System, which is engineered with precision alignment of the elements in mind, sees the brand offer unrivaled levels of customization within high-end watchmaking.
The watch uses a 45mm all-black DLC titanium case which can be changed using one of three kits, offered in Pirelli's Red, White and Blue shades, which are available in limited runs of 88 in each color. The straps are still made using the rubber from race-winning Pirelli tyres.
Inside is an RD820SQ 4Hz skeleton automatic movement with microrotor and a 60-hour power reserve.