Montblanc Heritage Monopusher Chronograph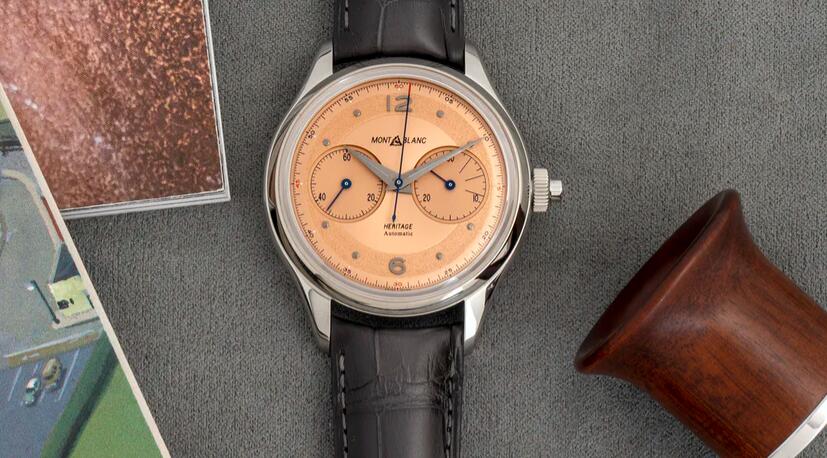 At the 2019 SIHH, Montblanc launched a new Heritage collection that covered a range of watches from simple three-handers to GMT models, to chronographs and even a perpetual calendar. What we have here is an update to an existing watch that introduces a beautiful new salmon dial that feels right at home on this model. The Heritage Monopusher Chronograph is a stainless steel watch that sits somewhere between being a dress watch and being a sport watch, and pays homage to the 1940s and '50s, when Minerva chronographs were in their golden age. Now, this watch doesn't use a Minerva movement, but that means you get a pretty complicated watch at a relatively affordable price. By using the caliber MB 25.12, which is based on the Sellita SW510, Montblanc can keep the price down without having to compromise in other areas.
If you're thinking that this watch looks a bit familiar, it's for good reason. This salmon dial color was used by Montblanc in a chronograph last year, specifically in the limited edition Heritage Spirit Pulsograph. These watches are clearly of a feather, but they occupy two very different places in Montblanc's product catalog. The new Montblanc Heritage Monopusher Chronograph offers up the same great looks and the same functionality in a more affordable, non-limited package.
Salmon dials have been having an extended moment, and for good reason. They're a fantastic alternative to the usual white, black, and blue, but they're surprisingly easy to wear and they go with a wide range of clothing styles. For a watch like this, salmon is a perfect choice too, completing the watch's mid-century vibe. Since the collection's full launch last year, I've also really liked the Heritage watch dials. The mix of finishes is fantastic and gives them a ton of richness and depth – I think it's a big part of why these pieces punch above their weight class across the board. This piece is no exception, and the fact that it's a slightly larger watch with a big, open dial just gives the finishing and details more space to shine. Those little, applied hour markers are so subtle, but really excellent.
Now, on that topic, this watch is on the larger side. At 42mm x 14.7mm, you're not going to confuse it for a vintage chronograph, but I do think it wears rather nice on the wrist. The short-ish lugs and balanced case definitely help with that, as does having the lone chronograph pusher set into the crown. This means you don't have ungainly chronograph pushers off to the side, making the watch feel even larger. All in all, if you're looking for a chronograph that bridges the modern / vintage divide, this oughta do the trick.
There is something magical about salmon-colored dials. It's not a dial color you see very often, but the love for them amongst enthusiasts is palpable. I also love a beautiful salmon dial. So I was more than happy to see Montblanc add the Montblanc Heritage Monopusher Chronograph to its collection. With its vintage aesthetic and great salmon dial, this might just be the most stylish piece in the catalog.
We have seen a stylistic growth from Montblanc Heritage Monopusher Chronograph over these last few years. The brand uses the vintage looks of the Minerva watches from the early 20th century to develop its own style. Minerva professional tool watches from the 1920s and 1930 inspired the 1858 collection; the Heritage collection is inspired by the Minerva watches from the 1940s and 1950s. Both collections have helped place Montblanc on a more decisive path aesthetically.
Let's zoom in on the Heritage collection. There is a division within the collection that must be mentioned. First, there are the regular releases with modified movements from external suppliers like ETA and Sellita. Next to that, there are the Haute Horlogerie pieces with stunning modern versions of the legendary Minerva movements. It's these watches specifically that have captured the hearts of many watch collectors.
This creates a massive difference in appeal and price. The watches that feature Minerva movements have been limited editions that are far more expensive than the regular models. With prices starting around 25k and moving up quite significantly, they are in a completely different segment of the market.
As a result, for me, the watches powered by Minerva movements completely overshadow the pieces in the regular collection. The new Heritage Monopusher Chronograph, however, could bridge the gap between the two.
The Montblanc Heritage Monopusher Chronograph may look familiar to those of you familiar with the brands' recent releases. Last year at the SIHH 2019, Montblanc released the Heritage Manufacture Pulsograph that Balazs wrote about here. The watch stood out during the show because of its stunning Calibre MB M13.21 — based on the legendary Minerva Monopusher Chronograph 13.20 movement from the 1920s — and its gorgeous salmon dial.
It was one of those exclusive pieces (limited to 100 pieces) that many fell for immediately. And I did as well. My only beef with it was the light blue color Montblanc used for the pulsation scale. Sure, it did make for excellent readability, but it also took away from the chic aesthetic its possible to achieve with salmon dials when that color is left alone to breathe, or complimented by something a little more chromatically robust…