Patek Philippe Four new Rare Handcrafts Minute Repeaters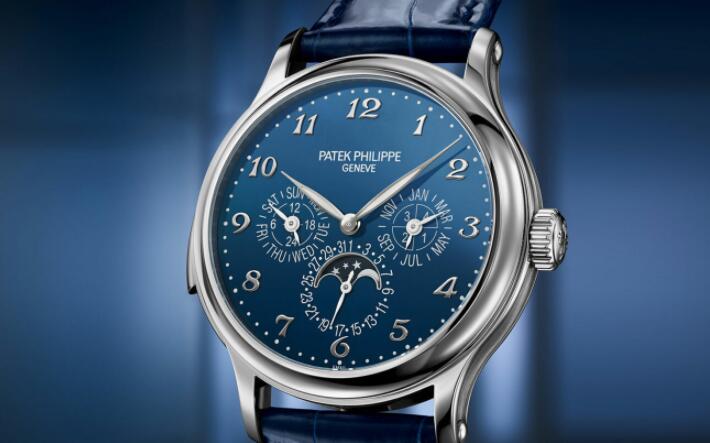 There's something to be said about Patek Philippe's complicated watches. We here at WristReview feature some of the best the industry has to offer in high-end horology from Patek Philippe's main rivals at A. Lange & Sӧhne to the very best independent watchmakers. And yet, it's always Patek Philippe that draws the crowds and lights the conversations. It's always Patek Philippe that people refer to when comparing things, because people love to compare things.
The latest piece from this Genevan heavyweight was released at the brand's annual Rare Handcrafts Exhibition in Geneva, which is normally a place for them to show off one-of-a-kind pieces made for the squillionaires that the brand generally caters to. Unlike most of the watches at the exhibition, if you can afford a 5374, you can buy one (probably). It comes with a 42mm 18k white gold case which is 12.2mm thick. It flows and tapers beautifully, especially at the lugs, and features plenty of hand polishing to complement the case outline.
42mm might seem quite big for a dress watch from Patek Philippe, a watchmaker known for being conservative at best, but the reason for the heft is the movement. It features two exquisite complications, one is a perpetual calendar which keeps track of the day, the date, the month, the moonphase and the leap years to adjust itself automatically without intervention (as long as it's left running).
Then there's the other complication: the minute repeater. Activated by the wearer, the minute repeater chimes the time using a complicated set of gears, snails (not live ones), wheels and gongs. Moving the slider on the side of the case powers the system which uses a set of feelers to detect the position of the hands. The reading is sent mechanically to the gongs which chime out the time in increments (usually hours followed by quarter-hours and then minutes). Make no mistake, the minute repeater is about the most complicated of complications to put into a watch. For the spec nerds out there, this is the calibre R 27 Q which has a 3Hz beat rate and a power reserve of between 38 and 48 hours.
All of this is hidden by the watch's blue enamel dial. Enamel arts seem to be a rarity for Patek Philippe, but they are easily capable of doing so if they feel like. The blue dial of this watch serves as an elegant base for the displays of the perpetual calendar, but it's the Breguet numerals that really sell the look in my opinion.
Patek Philippe isn't strictly limiting the amount of these watches it will make, but it's a complex one so don't expect there to be many of them around. They will be available through Patek Philippe boutiques and Authorised Dealers, though there is no given price which means you'll need to pluck up the courage to ask if you really want to know.
With no Baselworld trade show being held since 2019, Patek Philippe has had no opportunity to show off the most complicated and finely decorated watches to have rolled out of its factory in the past two years.
That changes today with the brand opening a Rare Handcrafts exhibition at its grand salon or boutique in Geneva, that has been serving Patek Philippe's customers continuously for 168 years.
While the exhibition's headline acts are four minute repeaters that sit at the very top of the brand's watchmaking it also includes the kind of finely decorated metiers d'art pocket and wrist watches, table clocks and Patek's signature solar-powered dome clocks that are best known to its most serious collectors.
Ref. 6002R-001 Sky Moon Tourbillon Haut Artisanat
The star of the show, created without any concession to contemporary styling, the 44m 18k rose gold Sky Moon Tourbillon Haut Artisanat is a double-dialed (the reverse displays a sky chart, sidereal time, phases and orbit of the moon) showcase for Patek's competence in hand-engraving, enamelling and chiming watchmaking. With 12 complications including perpetual calendar and minute repeater, the manually wound Sky Moon Tourbillon is the second only to Patek Philippe's Grandmaster Chime, as the most complicated watch that the brand produces. The Sky Moon is presented with a matching pair of gold cufflinks.
Ref. 5304/301R-001 Minute Repeater with Retrograde Perpetual Calendar
The Ref. 5304, unique within the brand's collection for its open dial, has been set with 80 baguette-cut diamonds on its bezel, lugs and clasp. The self-winding Grand Complication model includes a minute repeater and perpetual calendar with a retrograde date indicator. The calendar display uses discs of transparent sapphire crystal, while the rose gold case is inset with a white gold leaf motif filigree.
Ref. 5374G-001 Minute Repeater with a Perpetual Calendar
A self-winding minute repeater with perpetual calendar, the Ref. 5374-001 indicates day, date, month, leap year and 24-hour indication on the dial while its cathedral gong wraps itself almost twice around the movement for a richer tone when striking the hours and minutes. The model tops a solid white gold dial with a gloss-finish blue Grand Feu enamel.
Ref. 7040/250G-001 Rare Handcrafts Minute Repeater for Ladies
This white gold self-winding minute repeater features a flinqué enamel dial, which tops a hand-guilloched pattern with a transparent layer of blue enamel. The already eye-catching dial is framed by a bezel set with a double row of 168 diamonds.
Ref. 5738/51G-001
Patek Philippe's often-overlooked Golden Ellipse dress watch has been treated to some genuinely Rare Handcrafts here, with this white gold model and its solid gold dial undergoing champlevé enamelling. First, hollows are engraved in the dial which are then filled with black Grand Feu enamel. The remaining gold sitting proud of the surface is then engraved with a series of arabesque and volutes motifs.
Ref. 7118/1450G-001
Yes, it's a Nautilus and yes, it is factory-set with 2,553 brilliant-cut diamonds, totalling 12.69cts, using the snow setting technique. The Ref. 7118 might be from the ladies Nautilus collection, but with its 35mm white gold case, there will be men queuing up for the chance to wear this.
These six new pieces are available now via Patek Philippe retailers, with price on application.
There's a hierarchy to complications. Probably the simplest is the simple calendar. You put the numbers one through 31 on a disk, stick it under the dial, add a couple of gears to move it one increment forward per day, and you're in business. As parts counts start to climb (along with prices) mechanisms require more and more hands-on attention from a watchmaker. At the top of the heap are minute repeaters and other chiming complications, which unlike the perpetual calendar and the rattrapante, have resisted industrialization. For all that, it's hard to think of Patek Philippe nowadays without thinking of a certain blue-dialed Instagram cliché, what put Patek on the map historically, and has kept it there, was its mastery of the full repertoire of high end and complicated watchmaking. That means not only a grasp of all the decorative watchmaking techniques but also deep institutional knowledge of how to approach complicated watchmaking.