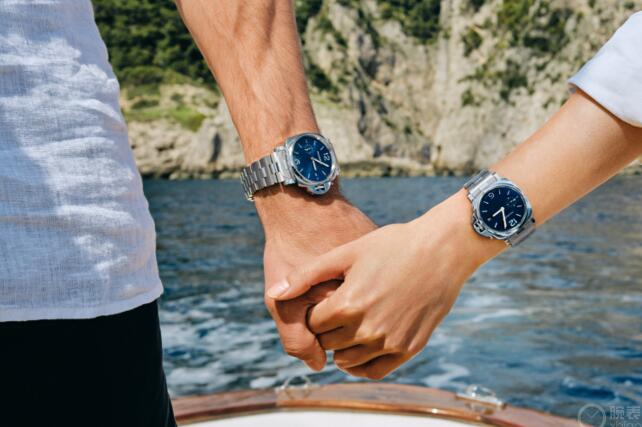 Poet Oscar Wilde said: "love yourself, is the beginning of lifelong romance", but I do not know that love each other is also. I love your loyalty and persistence standing in one side of the world, and also appreciate your ideal and freedom of yearning for mountains, rivers, lakes and seas. On a special day, we will present time gifts to our loved ones. We will keep our sincere feelings in our hands and accompany each other for a lifetime.
For the first time this year, Panerai Luminor Due introduced the design of fine steel watch chain into luminor due luminodur series, opening a new chapter. The design of the watch chain is inspired by the classic crown bridge protection device of Panerai. This patented design of Panerai enables the watch to have more excellent waterproof performance, escorting the heroes of Panerai, just like our firm protection of the other half in love, which exists in every moment of love. Each link of the brand-new watch chain adopts an elegant arc structure, which outlines the classic outline of the crown bridge. After polishing and grinding alternately, it is more eye-catching.
The two new timepieces are respectively the piccolo due luminodur series (pam01123) with a dial diameter of 38mm and the luminor due luminodur series (pam01124) with a dial diameter of 42mm. While continuing the precise and rigorous mechanical sense of Panerai's previous watches, they show the Italian style full of urban flavor and the unique style of formal watches. In addition, the folding buckle of the strap is engraved with the classic "op" logo, representing "officine Panerai". This acronym is a reverse double arrow symbol of Panerai's spirit of exploration.
In the festival of "520", which is filled with sweet breath in the air, Panerai presents his watch as a gift, hoping that lovers in the world will be able to live with each other and join hands with each other. There are years to go back, but also with a total of love Baishou.
The Panerai luminor Marina Lumino series – 44mm (pam01314) features a minimalist white sandwich dial and a green luminous display to show its unique charm. The suede leather strap with light brown stitching also highlights its superior quality. This watch does not mix too cumbersome design, symbolizing simple and pure love between lovers. The model of the watch, pam01314, is a clever echo of the precious promise of "a lifetime", just as the three characters of "520" symbolize "I love you", while "1314" shows unswerving and meaningful feelings in the time dimension.