Zenith El Primero A3817 Revival Review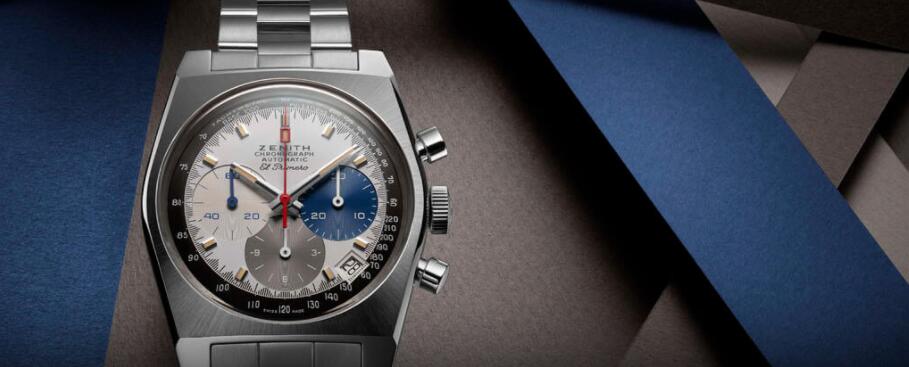 If the El Primero name refers to the legendary automatic chronograph introduced in 1969, it has actually been used in various watches, including the iconic inaugural trilogy known as the A384, the A385 and the A386. All of them have been reissued by Zenith in recent years, under the hot and attractive "Revival" collection. But in 1971 came a watch, the A3817, that somehow broke the differentiation between A384 and A386, as mixing the case of the first and the dial of the latter… And today, this style makes its comeback with the new Zenith Chronomaster Revival A3817.
In the 1969 trilogy, the A384 was seen as the sportier model, with its tonneau-shaped case, its panda dial and the use of stainless steel only. The A386 was, on its side, a more classic option with round cases in steel or gold, and of course the iconic tri-colour dial that remains one of the most recognizable elements in Zenith's DNA. And in 1971 came a watch that combined both universes, the A3817. It featured the sportier steel tonneau-shaped case of the earliest steel El Primero references with the striking tri-colour dial of the A386, resulting in a unique and appealing aesthetic – and it even featured one or two cool design elements. Made in only 1,000 pieces, it remains one of the most desirable models among the early El Primero watches.
Following the Chronomaster Revival A385 and A385, and using the same technical base, Zenith releases a new edition in the Revival collection, paying a highly faithful tribute to the A3817. As such, it retains the tonneau case of the other two models, with its compact (and historically relevant) dimensions, measuring 37mm in diameter, 12.6mm in height and 47mm lug-to-lug. The case also sticks to the handsome combination of radially brushed surfaces with polished facets and sides. All has been made using historical blueprints and reverse-engineering, so the watch is basically a 1-to-1 reproduction of the original model.
What matters with the Zenith Chronomaster Revival A3817 is the dial, which seems to be identical to the A386… but isn't. Sure, it utilizes the classic white background and tri-colour counters – in tones of grey and blue – but some elements are different here, as it was the case on the 1971 model. For instance, the running seconds counter at 9 o'clock done with blue markers, indicated by the single blue hand on the dial. The outer tachymeter scale also serves as both a pulsometer (from 12 to 3 o'clock) and a tachymeter for the rest of the track. Finally, the seconds track is done in a pyramid pattern affectionately nicknamed the "shark tooth" scale, which enhances legibility with a distinctly retro touch. The hands and markers are rhodium-plated and faceted, and later coated with beige Super-LumiNova.
As the A385 and A384, the new Zenith Chronomaster Revival A3817 is powered by the El Primero calibre 400, the direct descendant of the 1969 movement. Visible under a sapphire caseback – a concession to modernity – this in-house engine runs at 5Hz and boasts 50 hours of power reserve. It retains its integrated automatic chronograph architecture with column wheel and horizontal clutch.
Completing the retro look and feel of the Chronomaster Revival A3817, two strap options are proposed: the first is the steel "ladder" bracelet, a modern remake of the Gay Frères bracelets that became emblematic of the early El Primero watches, and a light brown calf leather strap with a steel pin buckle, which will develop patina over time.
Seguimos este Martes 18 con el nuevo Zenith Chronomaster Revival A3817. Un nuevo miembro de la colección Revival en la que Zenith recupera algunos de los relojes más icónicos de su historia. Por la charla que pudimos tener con Julien Tornare, CEO de Zenith, intuíamos que habría nuevo o nuevos modelos Revival, aunque pensábamos que más tarde. Finalmente se recupera una de las referencias mas difíciles de encontrar con este nuevo Chronomaster Revival A3817.
Cuando en 1969 se presentó el calibre El Primero lo hizo en dos diferenciadas categorías. Por un lado con modelos más deportivos con cajas de acero tipo tonel y por otro con cajas redondas más clásicas de acero u oro, como el A386. El A3817 lanzado en 1971 era la excepción que confirmaba la regla. Combinaba la caja de acero tipo tonel y estilo deportivo con la llamativa esfera tricolor del A386. Se produjeron 1000 unidades y actualmente es una de las referencias más distinguidas y difíciles de conseguir.
Zenith Chronomaster Revival A3817
Un nuevo reloj que presenta la misma caja angulada de tipo tonel con pulsadores tipo bomba que el original. Para recuperar este icónico modelo Zenith se ha basado en planos históricos y ha utilizado ingeniería inversa para respetar los acabados y proporciones de modelo original.
La esfera es lacada de color blanco con contadores del cronógrafo en tonos grises y azules y un segundero a las 9 horas con indices azules y la aguja en color azul. La escala de indicación de los segundos presenta un patrón piramidal llamado «escala de dientes de tiburón» que mejora la legibilidad y le da un toque retro. La escala taquimétrica exterior sirve de pulsómetro. Los indices y las agujas son rodiados, facetados y recubiertos de Super-Luminosa de color beige.
La caja de acero tienen tamaño de 37 mm de diámetro, cuenta con fondo visto y dispone de cristal de zafiro. La resistencia al agua es hasta 5 bar, 50 metros.
En el interior el calibre utilizado es El Primero 400 Automático. Movimiento manufactura, mecánico y de carga automática. Tiene una frecuencia de 36 000 alt/h (5 Hz) y una reserva de marcha de 50 horas. Zenith El Primero A3817 Revival
Esta disponible en dos opciones. Una primera con brazalete de acero, una versión moderna de los brazaletes Gay Frères que se convirtieron en emblema de los primeros relojes El Primero, o con correa de piel de becerro marrón claro.