Tudor Black Bay Fifty-Eight 18K And Black Bay Fifty-Eight 925 Watches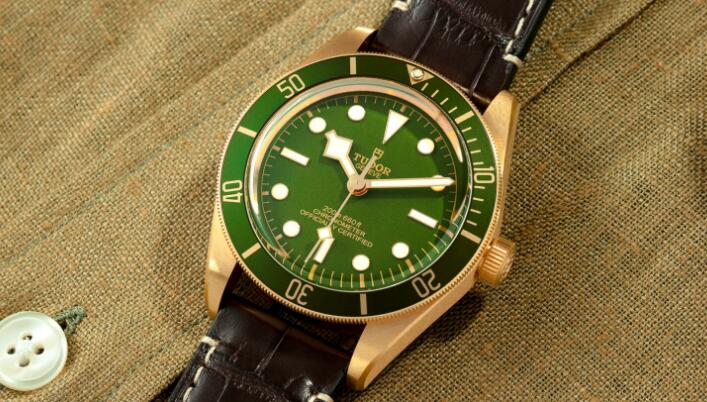 Since its introduction in 2021, Tudor's compact and vintage-inflected Tudor Black Bay Fifty-Eight has become one of the hottest nameplates in watchmaking and a benchmark for much of the current vintage-dominated dive watch market. While the line has been wildly successful and influential over the last few years, up to this point Tudor has kept the series simple in terms of variety with classic black and blue dial models in stainless steel. For 2021, the brand allows the Black Bay Fifty-Eight to stretch its wings and experiment, bringing together a pair of more unique new models with new flourishes like display casebacks, faded dial colors, and cases in 18K yellow gold and rarely seen 925 silver. The new Tudor Black Bay Fifty-Eight 18K and Tudor Black Bay Fifty-Eight 925 mark a potential turning point for the popular diver series, extending its stylistic range beyond vintage reissues and forging its own distinctive identity.
The 39mm vintage inspired case design of the Tudor Black Bay Fifty-Eight 18K and Black Bay Fifty-Eight 925 should be familiar to fans of the brand, with its clean tapering lugs, flat coin edge dive bezel, and oversized unguarded screwdown crown. While the form is carried over from previous models, both new versions offer multiple firsts for Tudor dive watches in general and imbue this modern classic shape with vibrantly different personalities.
The Black Bay Fifty-Eight 18K is the first Tudor dive watch to be cased in 18K yellow gold, and to preserve some of the Black Bay line's rugged vintage character Tudor gives the case a fully brushed finish. This gives the Black Bay Fifty-Eight 18K a warmly patinated feel without some of the ostentatious brilliance usually associated with gold. This satin approach to gold has become more common in luxury watchmaking lately, as evidenced by Montblanc's recent Lime Gold alloy, but Tudor's alloy appears far warmer and more saturated in initial images. The brand pairs this with a "Golden Green" anodized aluminum bezel insert with a matte gold diving scale, offering a handsome contrast in initial images.
Its stablemate takes an even more unique approach to this foundational design. The Tudor Black Bay Fifty-Eight 925 is the brand's first ever dive watch in 925 silver, and one of only a handful of divers ever made in this unorthodox metal. This fully brushed case should offer a brighter luster on the wrist than stainless steel, but remains a stealthy approach to a precious metal case in contrast to the instantly recognizable look of gold. Tudor claims the 925 silver used for the case of the Black Bay Fifty-Eight 925 is a proprietary alloy that resists much of the tarnish often associated with silver, but if there is any potential for patina with this metal this could become an intriguing alternative for verdigris-loving bronze enthusiasts looking for something different. The anodized aluminum bezel here is rendered in a deep, warm gray-brown, bringing just a hint of a faded vintage look without feeling contrived or overblown. Tudor equips both these new models with a sapphire display caseback, another first for Tudor's dive watch line, which both showcases the movement and changes the dimensions of the case slightly. Thanks to this new caseback, overall thickness for these two models is now up by 0.8mm over previous iterations to 12.7mm, which may prove contentious to fans of the Black Bay Fifty-Eight's slim wearing experience. Like previous versions, however, both new models offer a solid 200 meters of water resistance.
While the classic mix of applied diver indices and snowflake hands remains unchanged for the dials of the Tudor Black Bay Fifty-Eight 18K and Black Bay Fifty-Eight 925, each of these models adds a unique spin to the design with the use of color. The Black Bay Fifty-Eight 18K carries over the "Golden Green" hue of the bezel, with an earthy matte olive tone featuring just a hint of aged desaturation in initial images. This verdant shade plays well with the gold dial hardware and matte gold printed elements in images, with a decidedly on-trend feel in an age of green sports watches. For the Black Bay Fifty-Eight 925, Tudor takes a subtle and even approach to emulating tropical patina. While many brands evoke the look of a vintage dive watch dial with deep chocolate brown dial hues, pumpkin-colored fauxtina lume, or a heavily textured dial surface, Tudor sells the look of age here with a nuanced matte gray-brown. This dark taupe color whispers of wear rather than shouts it, and makes for a gentler complement to the unusual silver case than stark black.
Both new models in the Tudor Black Bay Fifty-Eight line are powered by the manufacture Calibre MT5400 automatic movement. Durable and accurate with a variable inertia balance and silicon hairspring, the MT5400 is COSC chronometer certified but the brand claims even greater accuracy at -2/+4 seconds per day. The MT5400's power reserve is also robust, with a 70 hour reserve at a 28,800 bph beat rate. On the other hand, the MT5400's finishing is more sparse than many of its competitors. Shown through the display caseback for the first time, this movement's matte finished full bridges and simple sunburst rotor may come off as a touch function-focused to enthusiasts.
Both the Tudor Black Bay Fifty-Eight 18K and Tudor Black Bay Fifty-Eight 925 are available with a pair of strap options. For the Black Bay Fifty-Eight 18K, the brand begins with a matte alligator leather strap in deep tobacco brown with cream contrast stitching. The texture and tones of this strap play well with the warm hues of the case in initial images, but for more casual and sporty use the brand also includes an adjustable fabric strap in olive green and gold. The Black Bay Fifty-Eight 925, on the other hand, comes equipped with only one of two optional straps. Like its gold cousin, the 925 can be optioned with a fabric strap, this time in textured two tone gray-brown, but for a more refined look buyers can also select a dark and desaturated brown calf leather option.