Omega Seamaster Dive 300M Black Black Ceramic Watch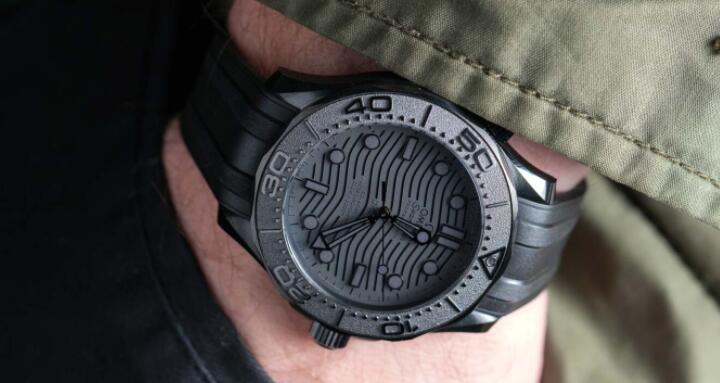 Meet Omega's latest addition to the 300M collection: The Seamaster Diver 300M Black Black reference 210.92.44.20.01.003. This 43.5mm diameter diver watch looks similar to the titanium and ceramic edition of 2019, but now in all-ceramic.
What I love about the 2019 Seamaster 300M Diver in titanium & ceramic (reference 210.92.44.20.01.002) was the diameter size of 43.5mm and the fact it has no date. I am a sucker for no-date watches, as I rarely use the date on my own watches. Consequently, I prefer to keep things clean. So, I am giving the new no-date Seamaster 300 Black Black a very warm welcome to the collection. Without further ado, let's have a look.
Omega often wants to bring all its innovations and most modern watchmaking techniques together in one watch. I think that the Seamaster 300M Black Black is the result of that, as it has a few new "firsts". However, those do not include the ceramic case or dial, as Omega has been using these for a while (perhaps best known in the Speedmaster Dark Side of the Moon collection).
Here we have fully ceramic crowns. Both the Helium valve and the winding crown are made from ceramic. That is new. Also new is the blacked-out ceramic bezel with anti-fingerprint technology. As you probably know, there are few things more annoying than fingerprints on your watch. By applying a certain laser-ablated surface texture to the ceramic bezel, fingerprints won't appear so visible.
And talking about laser technology, which has been applied for the bezel and the dial, it has also been used to create the circular finish on the case back. This way, the lettering (white chromium metalization) is also more readable, according to Omega. The case back of the Seamaster 300M Black Black uses the NAIAD lock system, meaning it will always "lock" in the same position. That is especially useful to ensure a certain engraving or text sits at a fixed position.
In this Omega Seamaster Dive 300M Black Black Ceramic Watch ticks Omega's in-house developed caliber 8806 movement. This is basically a caliber 8800 without a date function. This movement has a power reserve of 55 hours and ticks at 25,200vph. It uses a Co-Axial escapement and has a silicon balance spring. Metas certified this watch as a "Master Chronometer" meaning the movement has been chronometer-certified by COSC and, after casing, underwent eight more stringent tests.
One of the requirements is the anti-magnetism to at least 15,000 gauss. Another important one is the performance of the movement with only 30% of the power reserve left. Under all circumstances, the accuracy is +5/0 seconds per day on average. If you purchase a Master Chronometer certified watch from Omega, you will get a special code to look-up the exact tests and the results of your personal watch on their website.
When I took this watch out of the box I wasn't immediately smitten by it. The new Seamaster 300 Bronze Gold is the one that received all attention. But when I put this new Seamaster 300M Black Black on the wrist, I realized how good it actually looks. When shooting the video about the Seamaster 300 watches for our YouTube channel, I put this 300M Black Black on my wrist and my colleague and co-host Karina actually told me after the shooting how nice it looks. Even our ever-skeptical Bert (our photo/videographer) was impressed by the watch when he tried it on. I realize that because we've been in the watchmaking game for so long, and often find ourselves confronted with vintage-inspired watches, it is sometimes difficult to be open-minded to something new.
Aside from how the watch looks on the wrist, I was worried that you simply wouldn't be able to read the time on this Seamaster 300M Black Black. Weirdly, you can. There's enough contrast between the shiny black PVD hands and the dial that it is actually easy to read the time. The lume on the hands and hour markers is actually in anthracite, giving better results than the all-black luminous material.
The bezel with positive relief might remind you of the Seamaster 300M Nekton that Omega released last year, but also of the 2000 America's Cup Seamaster 300M with white gold bezel.
This watch is not something that I would pick from a catalog or based on pictures online. On the wrist, however, the Seamaster 300M Black Black certainly has a presence that I like. I have the famous Seamaster 300M 2531.80 and the 300M Chrono Diver in tri-metal (rose gold, titanium, and tantalum), but those are over 20 years old. When I put this new Seamaster 300M Black Black next to them, it's apparent that these watches are related, but it also made it painfully clear that perhaps it is time to update my collection. Omega today is not the brand it was when the references 2531.80 and 2296.80 were introduced.
The new Omega Seamaster 300M Black Black 210.92.44.20.01.003 will retail for €8,600. That is not even that much more expensive than the titanium and ceramic model on a NATO strap. This 300M Black Black comes on a comfortable and soft rubber strap, with black buckle. The expected delivery is June 2021.
When bestbuycheap.ru met up with Omega to cover some of its new 2021 watch releases, it became immediately clear how important materials science was to the team in Bienne, Switzerland. For Omega, that means two things this year. First, it means new ways of finishing popular materials like ceramic. But it also means introducing new materials and techniques, such as Bronze Gold, as well as a new more scratch-resistant aluminum anodization technique used for some bezel inserts (as is the case in the new steel-cased Seamaster 300 models). Right now, however, we are talking about one of the hippest new Omega watches for 2021: the Omega Seamaster Diver 300M Black Black.
Rendered in stealthy all-black ceramic, this is a new version of the still freshly-revised (in 2019) Omega Seamaster 300M Co-Axial Master Chronometer (aBlogtoWatch review here) watch that has proven very popular. This "phantom" Seamaster Diver 300M blends high-tech construction and a thoroughly sexy, masculine wearing experience. In some senses, this is the core Seamaster 300M, just rendered in black ceramic. In other respects, this is a very different watch from the other models, given how it feels and looks on the wrist — as well as the fact that it has finishing styles you won't really see on other modern Seamaster 300M watches. This version of the Seamaster 300M also shares a name (and color scheme) with my favorite chewing gum, a caffeine-infused Lotte product called Black Black from Japan.
Omega and ceramic are nothing new, but some people may have forgotten the absolute winner that the Omega Speedmaster Dark Side Of The Moon watch was for the brand and its fans. It feels hard to believe that it was released back in 2013! Omega didn't need to reinvent the Speedmaster, but what they did was finally make a black ceramic watch that was finished like traditional metal with features such as contrast polishes. Until then, most ceramic watches had a single case polishing finish. Omega really popularized the idea that if you polish ceramic as you might metal (you can't exactly use the same machine processes for that given how much harder the surface "high-tech ceramic" – zirconium dioxide – is), a ceramic watch can offer the benefits of ceramic (scratch resistance, color permanence, etc…) with the traditional beauty of a polished metal timepiece.
Since the Speedmaster Dark Side Of The Moon was released, Omega has continued to explore and experiment with ceramic in several interesting ways (notably for a variety of Seamaster Planet Ocean watches in ceramic). That includes not just new colors, but also new formulations and machining techniques. An excellent example of this for the new Seamaster 300M Black Black is that the crown and manual helium release valve are not black-colored PVD-coated metal, but all ceramic. This is achieved thanks to a sophisticated ceramic injection molding technique. Previously, such parts could not be made out of ceramic, because it was too difficult to mill pieces of ceramic into such precise components in any volume. Today things are different, and sophisticated watch makers which benefit from the industrial excellence of the Swatch Group can make black ceramic feel fresh all over again.To understand the evolution of the Seamaster 300M as a ceramic watch, it is a good idea to compare this new 2021 Seamaster 300M black ceramic model with its predecessor, the 2019 Omega Seamaster 300M Black Ceramic & Titanium. As the name implies, that watch (which more or less shares the same form factor as this new one) was a blend between ceramic case components and some in titanium. The latter metal was chosen for its weight savings, as well as the fact that it was relied upon for parts that (at the time) Omega could not machine in ceramic. Today things have advanced.
An interesting talking point of the Seamaster 300M Black Black is just how much of the watch is in ceramic. That includes the 43.5mm wide (sometimes referred to as 42mm wide depending on where the case is measured), roughly 14.5mm thick, 300 meter water resistant, case, bezel, crowns, dial, and even the strap buckle. The other interesting talking point that I believe more people will appreciate is the fact that this is probably the most legible "all-black" watch I've seen in a long time. Bell & Ross had a phantom version of the BR01 a long time ago that similarly was able to create an all-black experience using shades of gray on the dial. Similarly, Omega mixes shades of gray and interesting finishing techniques to offer a "phantom" watch aesthetic with all the legibility of a tool watch. Note the special anthracite-colored Super-LumiNova lume (that glows blue). Omega representatives reminded us during the meeting that this is still supposed to be suitable as a professional diver's watch. The implication is that despite the black-on-black dial (which is normally harder to read), legibility is not an issue here.Omega is right about this. The mix of various shades of black and gray, together with different finishes, allows for this all-black watch to be perfectly legible. This makes it not only a great-looking timepiece, but also a fine Omega tool. The frost finishing on the bezel is a fascinating example of some of the novel ways that Omega is finishing ceramic, much of which is thanks to laser finishing technologies.
Inside the Omega Seamaster Dive 300M Black Black Ceramic Watch is the in-house made and METAS-certified Omega caliber 8806 automatic movement. It operates at 3.5Hz (25,200 bph) with 55 hours of power reserve. The movement is highly anti-magnetic, uses silicon in the regulation system, and still nicely polished. You can admire the movement through the sapphire crystal on the otherwise ceramic caseback, which is always a nice touch on a professional-style diver's watch.
Unfortunately, no matching black ceramic bracelet is available for the Seamaster Divers 300M Black Black yet. That will be truly something if and when Omega is able to manage that. For now, the watch comes on the same high-quality custom-fitted black rubber strap that is available for other newer Seamaster 300M models. The watch wears very comfortably on the wrist and blends the macho modern looks of an all-black watch, with the timeless distinctiveness of Omega's landmark dive watch.