Audemars Piguet Royal Oak Grande Complication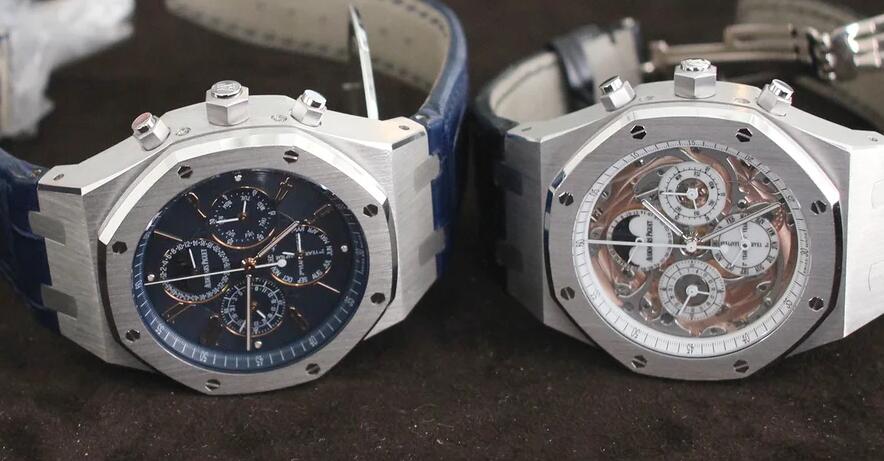 Royal Oak Grande Complication. Combining the three categories of horological complications represented by short-time measurement, striking mechanisms and astronomical indications, this model driven by in-house calibre 2885 was hand-crafted by a single master-watchmaker in the Audemars Piguet grande complication workshop.
Seeing one Audemars Piguet Grande Complication is exciting enough, but two is just ridiculous. Last week we were able to compare a semi-openworked white gold Grande Complication with the piece unique Pride of Argentina while they were both visiting New York City. Needless to say, we were impressed.
Before we get into these two watches themselves, let's talk about what actually constitutes a grande complication. Each maker has a different definition, but Audemars Piguet holds itself to a particularly stringent standard – not only does the watch have to have three major complications, but it must have at least one from each of three "families" of complications: the measurement of short intervals, astronomical measurement, and chimes. In both of the watches below, these are split-second chronograph, perpetual calendar, and minute repeater respectively.
The first watch here is the semi-openworked Royal Oak Grande Complication in white gold. Even with all of the complications, Audemars Piget have managed to keep the case a relatively thin 8.5mm thick. The 648-part movement is only 39.5mm in diameter, but the case is sized at 44mm to keep the dial legible – much smaller and it would too difficult to read.
One craftsman in AP's grande complications department builds the entire movement from start to finish, and the process involves over 700 hours of construction followed by 120 hours of openworking to get the movement functioning and looking just-so. You can see from both the dial and back sides of the watch just how intricately the movement has been shaped and decorated. It really is a thing of beauty.
While only ten or so of these semi-openworked Grande Complications can be made each year to order, this next watch is piece unique. The Grande Complication Pride of Argentina was created by AP as a tribute to the bicentenary of Argentina, celebrated back in 2010. Although it is powered by the same 2885 movement as the Grande Complication above, the Pride of Argentina has a number of distinguishing characteristics.
While the blue Grande Tapisserie dial with applied rose gold numerals and the matching rich blue crocodile strap stand out, there are a number of other differences as well. The brushed platinum case (similar to that of the Leo Messi Chronograph) is one pretty substantial difference. Another is the hunter case back, which features a "Pride of Argentina" engraving on the outside and beautiful large-scale perlage finish on the inside. It's also interesting to note that Audemars Piguet's perpetual calendar includes a register counting the 52 weeks of the year, which isn't something you see every day. We were able to capture the Pride of Argentina's minute repeater in action as well, which you can hear below Audemars Piguet Royal Oak Grande Complication