Jaeger-Lecoultre Rendez-Vous Moon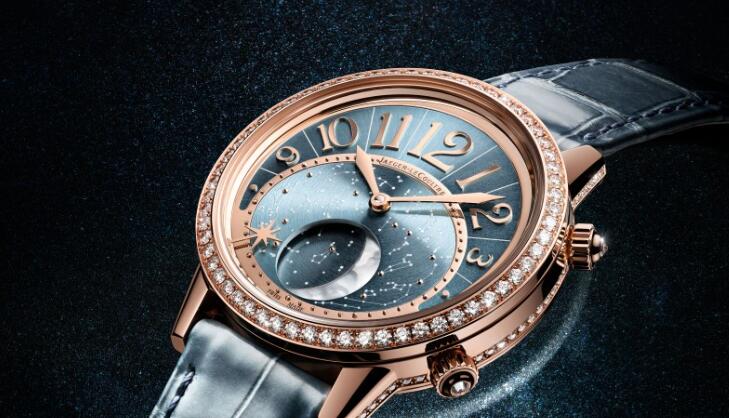 Jaeger-LeCoultre's Rendez-Vous collection was first introduced to the public in 2012 and if the current diversity of offerings is any indication, it's been a resounding success. The company website shows over 40 variations on the theme, which includes everything from steel timepieces with a simple day/night indication, all the way up to tourbillons, watches with celestial maps, and perpetual calendars. As you might expect, there is a lavish deployment of precious metals, precious gems, and mother of pearl. A signature complication for the range, is the moonphase complication; 8 models have one (10 if you include the perpetual calendars). The Dazzling Jaeger-Lecoultre Rendez-Vous Moon is the most recently introduced of the Dazzling Rendez-Vous models, following the introduction of a Dazzling Day & Night model, and white gold Dazzling Rendez-Vous Moon, at this year's SIHH. The pink gold Dazzling Rendez-Vous Moon is being launched at the Venice International Film Festival.The watch is a showpiece for Jaeger-LeCoultre's very long history of horological gem-setting, which is a highly specialized and very demanding genre of the craft. Colored stones present a more obvious challenge as color-matching has to be extremely precise when setting colored stones adjacent to each other on a watch case, but diamonds have challenges of their own, especially when clustered tightly together – the stones have to be cut and set to allow as much light as possible to travel through them, so as not to mute the scintillating fire that gives modern diamond cuts so much of their appeal. Interestingly, the fire we associate with diamonds today is a relatively recent phenomenon in gemology – the first really modern cut based on a theoretical analysis of the optics of a cut diamond was the brilliant round cut, which was not developed until 1919, by Marcel Tolkowsky.Gem-setting at Jaeger-LeCoultre takes place in the company's workshops in Le Sentier (which is also where a lot of its enameling, engraving, and other metiers d'art processes take place). It's quite unusual for a single company to have so many horological and decorative competencies under one roof, and you can see some additional examples of horological gem-setting being done in Le Sentier from our 2016 Visit To The Manufacture, right here. Jaeger-LeCoultre is both a watch manufacturer and a kind of living museum of watchmaking – not just technically complex watches, but aesthetically sophisticated ones as well.When I was a kid, I remember reading a science fiction detective novel, the title of which I've forgotten (and would dearly love to be able to remember). The setting was a giant luxury interstellar cruise liner, plying the spacelanes of the Milky Way Galaxy, and the protagonist was a police detective who found herself being introduced to some of the finer things in life by (if memory serves) a suave sophisticado who of course, might or might not also be a cold-blooded murderer. Certainly he came across, before the final reveal, as an archetypal gentleman killer – sharp dresser, encyclopedic knowledge of wines, art connoisseur, and, of course, a master of the art of conversation. One of the moments in the book which has stuck in my memory, is that at one point, he gives her a watch as a gift, which is a Jaeger-LeCoultre Reverso.I mention this rather obscure bit of personal nostalgia because I think it points out something about JLC which is often overlooked in our current, steel-sports-watch besotten era, which is just how strongly the company is identified with a certain kind of elegance. The craft of creating something genuinely elegant is a difficult one to practice under any circumstances, and even less so when the appreciation of a manifestation of classical elegance is not only overlooked by many, but actively and almost angrily dismissed. The situation in the case of horological gem-setting is a challenging one, partly because it's a relatively difficult discipline to appreciate even if you are inclined. I think I can say, without giving anything away about the secret proceedings of the GPHG, that I find myself struggling every year to see distinctions between high jewelry pieces which are blindingly obvious to those jurors with a lot of expertise not only in gemology in general, but horological gem-setting in particular.The problem is compounded by the fact that especially with white diamonds, it is difficult if not impossible to convey in still photographs the breathtaking, incandescent glitter of even a single high grade, well cut stone, much less of dozens set adjacent to each other. We do not generally work hands-on here at HODINKEE with high-jewelry timepieces but on the very few occasions such a watch comes into the office, I'm always struck by just how immediately hypnotic the effect is – you start to understand why diamonds and other precious stones (I have a major weakness for rubies, personally) can drive people a little nuts, and the myths and legends surrounding some of the most famous stones, like the Hope Diamond, start to seem easier to understand.
Horological gem-setting is a fascinating craft, albeit one hard to dive into, even if you are inclined to do so; there is just not that much information out there and even the brands which practice it in-house, generally do not talk much about the craft aspects involved. I think this is a bit of a shame, though. Real elegance after all is not something superficial; at its best it arises from refinement of design and high craft in execution, and I've always liked the fact that Jaeger-LeCoultre still keeps so much of its expertise in this respect, alive at home in Le Sentier.
Moon phases against a sumptuous backdrop… A mysterious star reminding you of a Rendez-Vous to come… A wave of blue, and sparkling diamonds… An automatic movement in a watch whose name conjures up a soft, tranquil mood… This precious pink gold version of the Rendez-Vous Moon Serenity watch relays the quintessence of the Manufacture's watchmaking and jewellery expertise.
Moon Phases in an ocean of blue
The Jaeger-Lecoultre Rendez-Vous Moon Serenity is all in blue, with a mother-of-pearl moon phase set off against its satin-brushed star chart. Dainty golden half-spheres scintillate under the light above the enchanting blue of its inner dial, recreating the constellations of the night sky on a starry evening. The floral hour numerals that are so emblematic of the Rendez-Vous collection softly fade into the lower part of the satin-brushed sunray dial, almost to the point of vanishing altogether. The hour numerals form the arc of a circle, their discretion inviting the eye to focus on the splendour of this nocturnal ballet, in its endlessly cycles of renewal…
Equally precious and precise
The bezel is encircled by a crown of 62 brilliant-cut diamonds. Each precious gemstone is rigorously selected before it can be precisely positioned alongside the other gems in the setting. Like a wayward butterfly, a mysterious circling star indicates the time of an upcoming Rendez-Vous. Inconspicuous and mischievous, this glittering star reminds us that the name of the watch – which is also the name of the collection – was chosen for exactly that reason. The beating heart of the Rendez-Vous Moon Serenity is powered by the precision of its automatic mechanical movement, the Jaeger-LeCoultre Calibre 935, whose 265 components can be admired through the sapphire crystal case-back. Through both its faces, the Rendez-Vous Moon Serenity watch in pink gold presents an alluring temptation to travel, with the stars as our companions along the way. In the purity of its lines and the refinement of its contours and materials, this resolutely contemporary watch channels the distinguished combination of the Grande Maison's Rare Handcrafts "Métiers Rares".